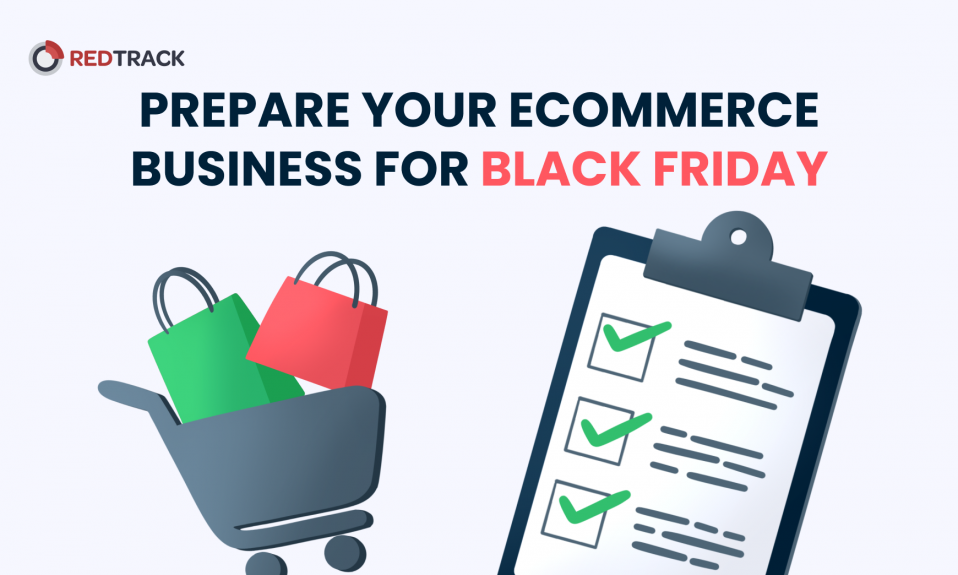 This Black Friday, you could prepare your eCommerce store by pulling gimmicks out of the wizard's hat. Or you could try a more sustainable approach that considers your buyer's journey.
If you're ready to get the best out of your most profitable segments, read on! We'll show you how to prepare for Black Friday 2022 in eCommerce.
How to Make the Most of Black Friday 2022 in eCommerce
Sales and discounts are already a given for Black Fridays and Cyber Mondays. Every consumer expects them, so you'll have to go the extra mile to draw their attention to you. 
Craft your Black Friday offer

When planning your BFCM campaign, you have to start by thinking about your unique offer during the holiday season. In order to do that perform the following analysis:
Analyse your audience: is your product something that they have been planning to buy for a long time? Is that something that they most likely will gift to someone else?
Think about buyer's intent: depending on the category of the product, consumers will have different driving desire to make the purchase. If it's something more luxurious, then it will be a desire to treat yourself, etc. Your offer during BF has to play around the buyers intent and eliminate consumer objections. 
Which of your products are they looking to purchase at a discount the most? After the analysis of your Target audience and their buyer's intent, analyze what kind of goods they would want the most and what would be the best price during BF campaign to make sure you run more sales. 
Dive into your data. For example, by reviewing your website visitor behavior, you can identify the products people are highly interested in (but which may come at a higher price point). 
Adding a chatbot to your website won't help much if you leave opportunities like FAQs and reviews on the table. Think about your unique customer journey.
Marketing doesn't stop at Black Friday
Think long-term. With a good campaign, you'll get plenty of traffic you can convert into repeat customers. 
Make sure you establish your eCommerce analytics framework ahead of time so you can analyze conversion quality, the best marketing channels, and other data to grow your revenue in the long term.
You might consider to save your audiences from Black Friday campaigns and later retarget to them so they could become recurring customers. 
2. The Best eCommerce Black Friday Strategies and Tactics
2.1. Respond to Consumer Behavior Changes
Black Friday has come a long way from standing in line trying to snag the 32" LED TV. These days, consumers have different expectations:
Longer-lasting Black Friday deals

Marketing through multiple touchpoints and channels

Premium support
For example, Target gradually added more savings to their product deals from November 25. 
Similarly, Walmart launched a gamified campaign (keeping up with the Gen Z Tik Tok audience) where consumers were invited to "unwrap" Black Friday deals:
Your Black Friday campaigns tell new and existing customers a lot about your brand. Give them the experience they truly want – on top of a discount.
2.2. Test New Opportunities with Your Black Friday Campaign 
Instead of a typical Black Friday campaign, IKEA ran a #BuyBackFriday campaign. Their customers could return used furniture for store credit and a discount.
What opportunities do you have lying in wait?
Promoting through affiliates and influencers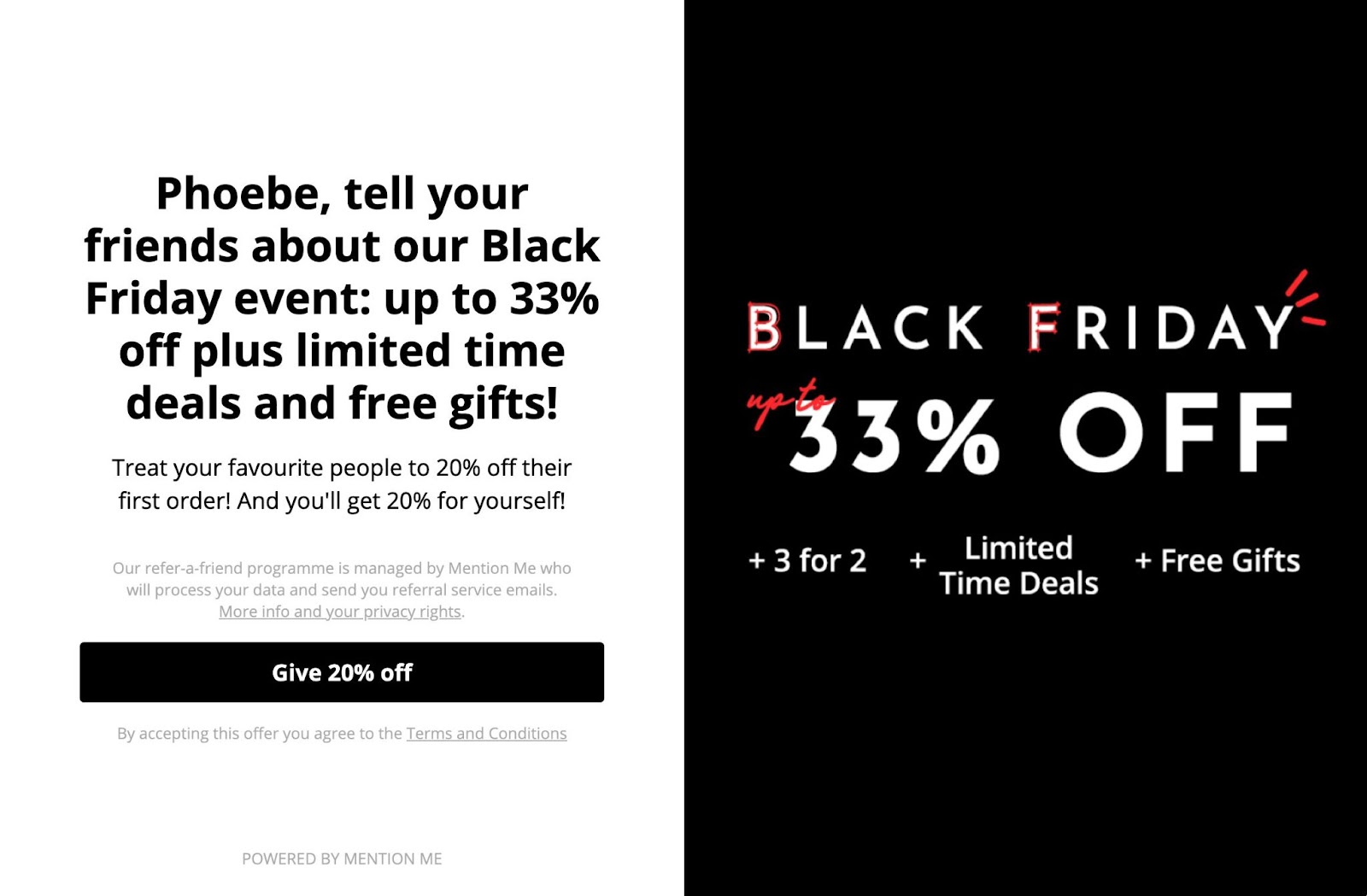 Offer something special to your existing customers like Feel Unique. Don't make them feel like another number on the visits counter.
The more you innovate, the more you'll attract customers. And with proper tracking, you'll know which campaign drove the most revenue.
2.3. Integrate Your Black Friday Campaign into Your Funnel
Make sure your Black Friday campaign is tightly integrated with your funnel:
Are you drawing in customers who are aware of their problems and potential solutions or unaware?

Do you have

a sequence

to retain first-time customers?

Do you have

a referral program

in place for your existing customers?

Is your

tracking

enabled to monitor results from different channels?

How do your Black Friday campaigns

affect

retention, lifetime value, and average order value?
For example, a well-executed influencer campaign may result in higher customer lifetime value than traditional social media advertising. If you run your campaign through multiple channels, you'll also want to know which channel contributed most to the conversion.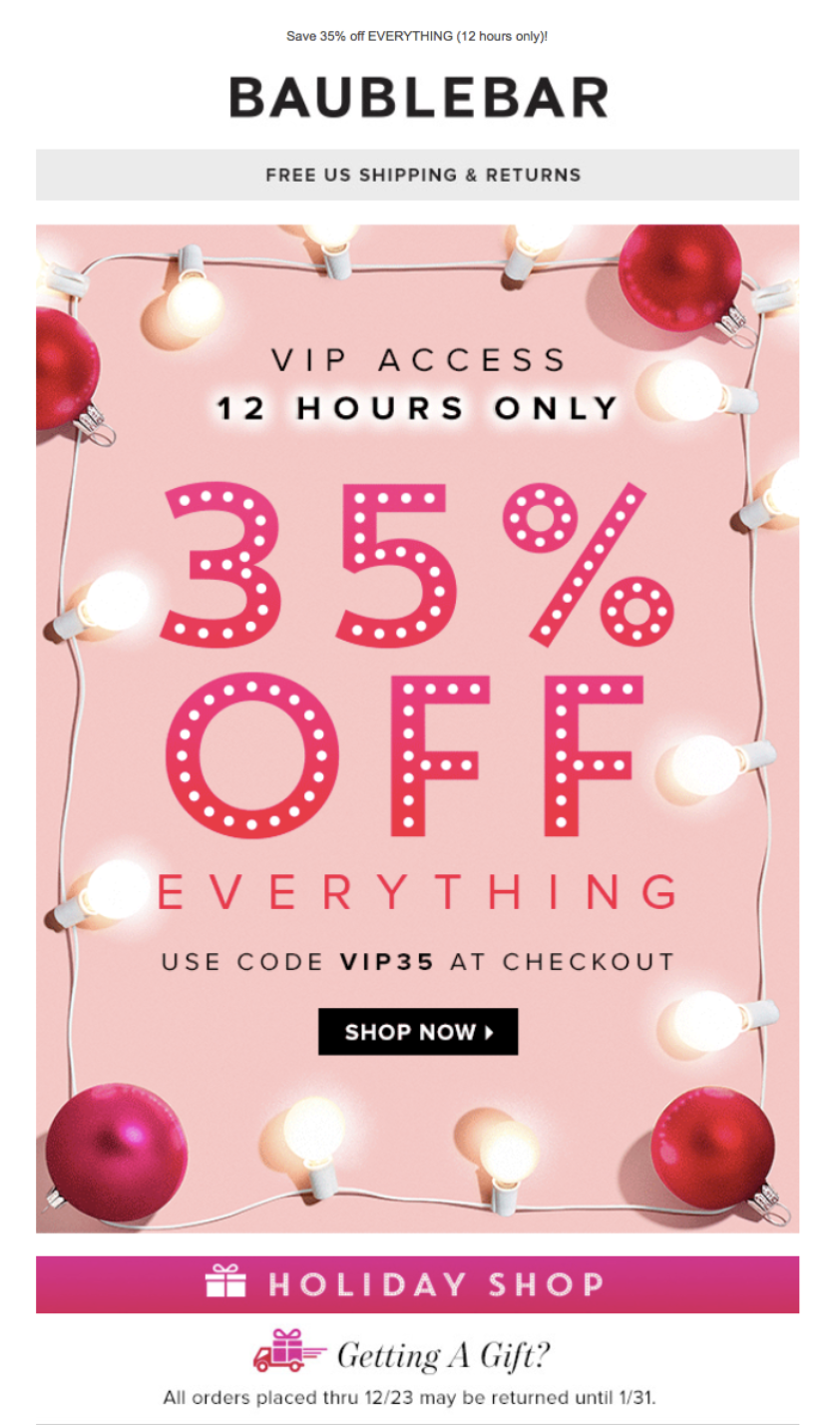 Similarly, you should have clearly defined audience segments. 
Then, give the best customers (typically around 3-5% of your customer base) your best offer, an extra special discount, or a bundle. 
2.4. Remove Obstacles to Conversion
Do everything to remove obstacles to conversion, and then promote through retargeting. 
For most B2C businesses, retargeting for Black Friday may not be necessary. But if you're in B2B or your products come at a higher price point, identify the most profitable audience segments and go after them.
Make sure you answer all your audience's questions on your website or in your marketing collateral. Don't stop at clarifying your product – clarify your service:
Who should they contact for support?

When can they expect the delivery?

What are the shipping and payment terms?
Optimize your checkout process. Instead of trying to gather every possible data point, focus on the information you need for the transaction. Give your customers the ability to check out immediately. 
2.5. Go Big with Black Friday (or Go Home)
Don't stop at just one campaign. Be everywhere your customers are!
Learn from TestGorilla's multi-channel campaign. 
First, they serve an educational ad: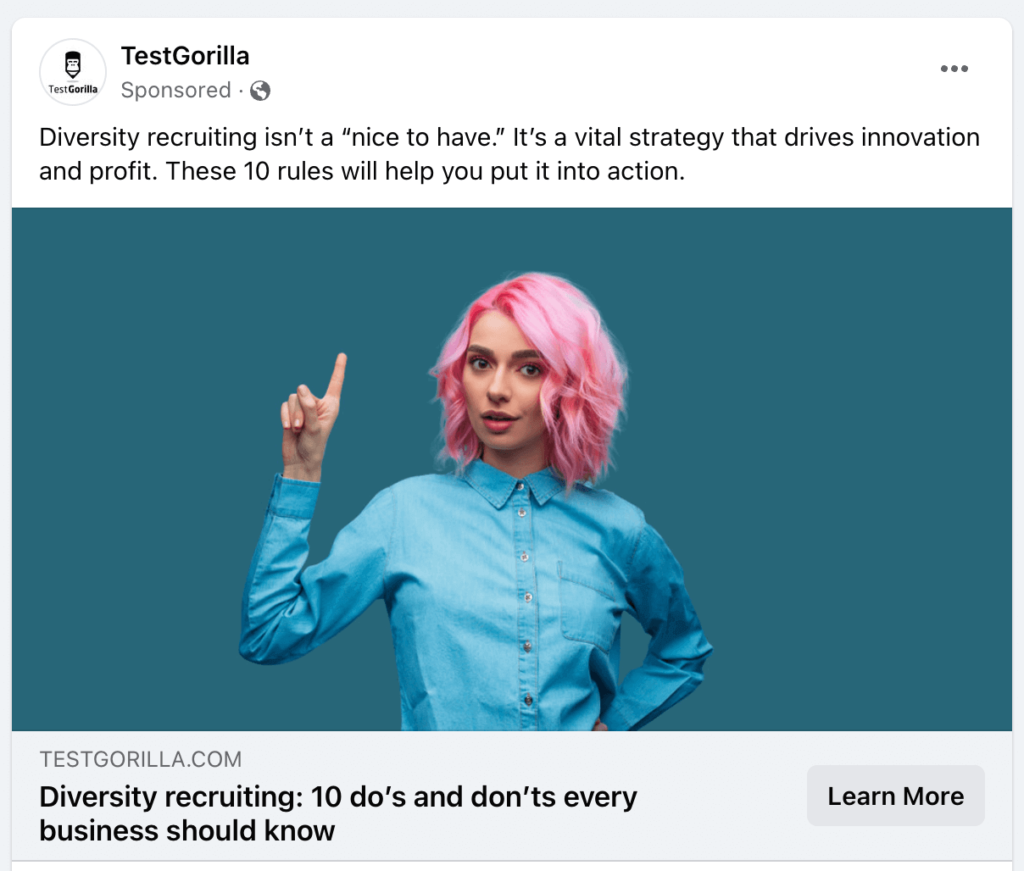 Then, they reach out via email: 

In case their customers are shopping around for options (and they usually always do), TestGorilla runs branded keyword campaigns against their competitors: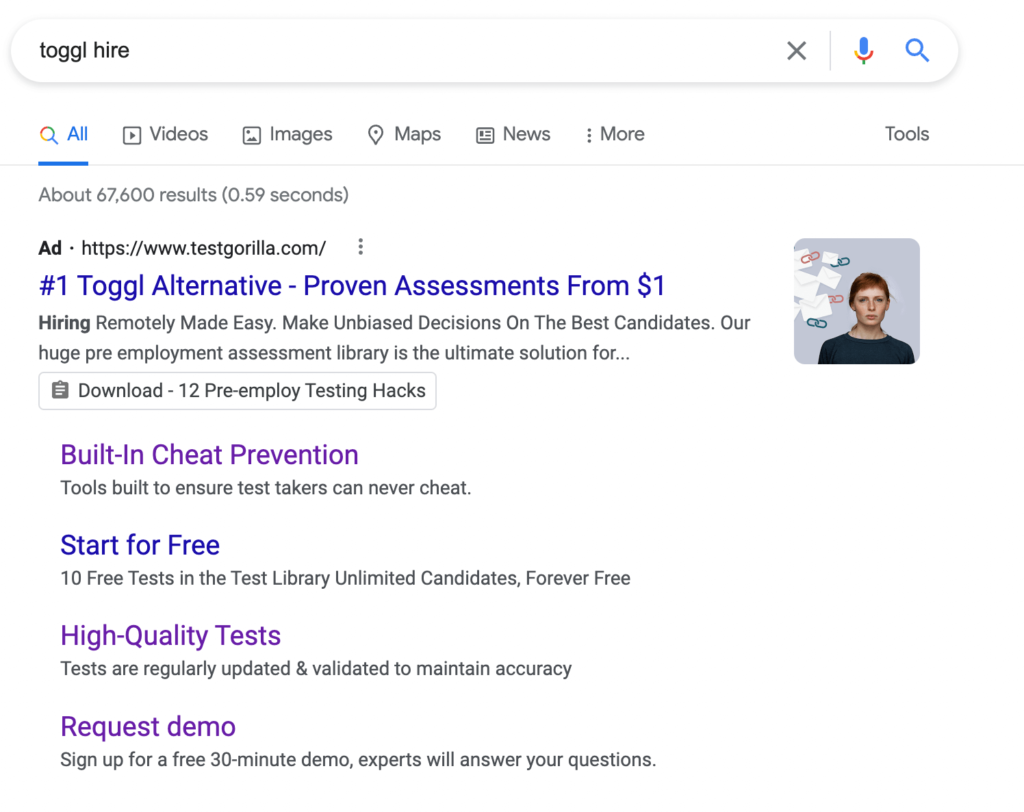 In eCommerce, your campaign mix could be more social. But no matter what you do, you need to understand where your customers are most susceptible to your offer and what could prevent them from purchasing from you.
3. How to Track Your Performance During Black Friday
Don't throw money at your campaigns and hope for positive results. Instead, focus on data and track the right metrics:
Set up reporting

– Which metrics do you need to understand the details of your campaign success? Is the number of conversions enough, or do you want to know how much you're paying for every acquisition? List critical metrics and

set up the reporting in a marketing attribution tool like RedTrack

.

Identify profitable channels – Where do your best leads come from? Distinguish every channel with tracking codes so you don't waste money.

Leverage promotion and discount codes

– Use dedicated promo and tracking codes to work with affiliates or influencers. You want to work with the best of the best.
How Does Your Black Friday Campaign Affect Your Marketing in the Long Term?
Metrics and reports will help you even after Black Friday is over. 
Using RedTrack, you'll also know how each channel contributed to the final conversion.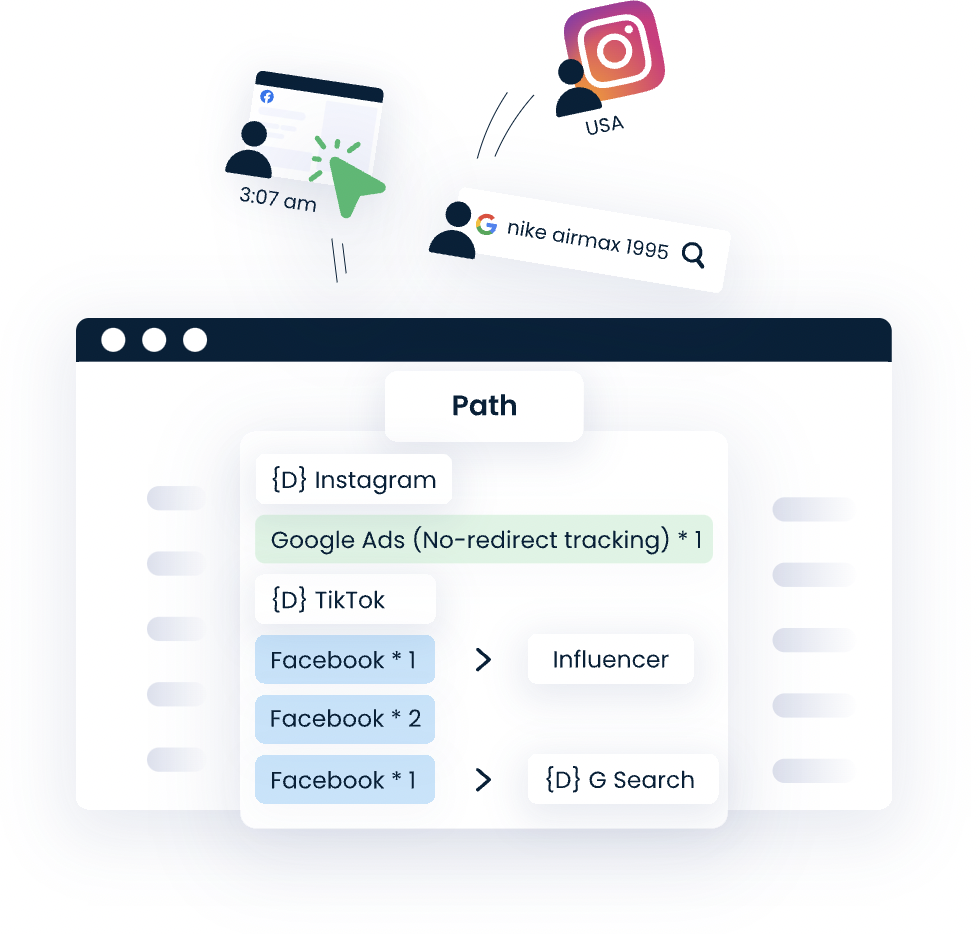 The conversion path report will show you which channel, location, device, and source converted the most. Even better, you'll learn how the source affected your customers' lifetime value.

For example, you might find that your Facebook ads are where the serious revenue is! 
After all – you've spent so much time planning your Black Friday campaign. Why not learn from it and replicate the success at scale?