In the world of e-commerce, finding the right products to sell can make or break your business.
Identifying products with high demand, profitable margins, and a unique selling proposition can be challenging. And today our friends and patterns at Minea will help explore the world of finding best products in e-commerce. 
This is where Minea, the best ads spy tool, comes in handy. By analyzing competitor ads and identifying winning products, Minea can help you find the perfect product to sell in your e-commerce store.
In this article, we will provide a comprehensive guide on finding products to sell in e-commerce, with a special focus on using Minea to identify and evaluate winning products. Whether you're just starting out or looking to scale your business, this article will provide you with the knowledge and tools to succeed in the competitive world of e-commerce.
Conducting Market Research
There are several methods of finding a winning product in ecommerce. But no matter which method you want to use, it is important for you to take the time to do a little market analysis. This will give you an orientation on where you should start your product research.
This market analysis mainly goes through 3 steps.
1. Identifying market trends and gaps
Identifying market trends and gaps can help you understand what products are currently in demand and where there may be an opportunity for your business. This can involve analyzing search data, reviewing industry reports, and monitoring social media conversations.
2. Analyzing customer needs and preferences
Analyzing customer needs and preferences is critical in identifying products that will resonate with your target audience. This involves identifying pain points, desires, and preferences of your target audience. You can do this by conducting surveys, focus groups, and reviewing customer feedback on products in your niche.
3. Studying competitor products and pricing
Studying competitor products and pricing can help you identify successful products in your niche and evaluate their potential profitability. This can involve analyzing product features, pricing, and customer reviews.
The best way to perform these different analyses is to use a product search tool like Minea which will allow you to analyze all the parameters of a product on the market.
Here is how you can use Minea to find your winning product in e-commerce quickly.
Minea: the best e-commerce product search tool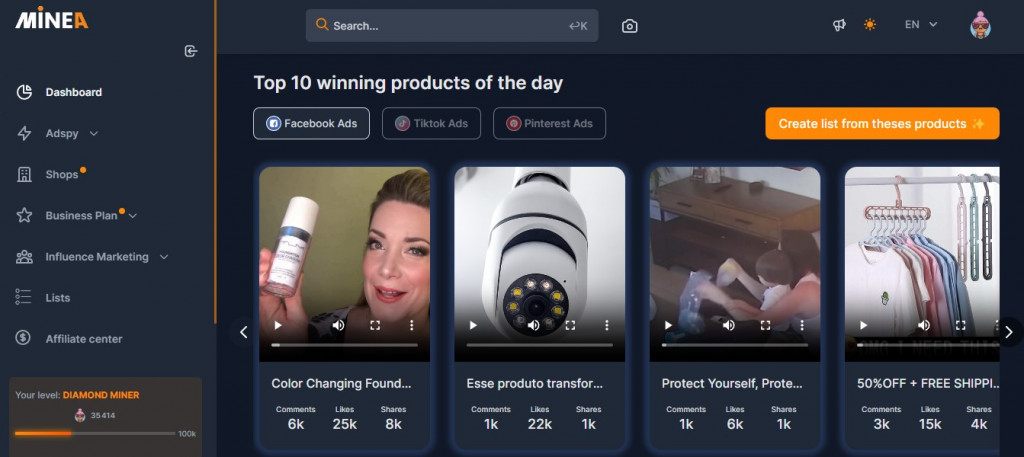 What is Minea?
Minea is the most used and most complete tool for spying on social network ads. It is the place to find your winning e-commerce or drop shipping product.
Minea spies daily on the most active social networks used by e-merchants and drop shippers to collect all the advertisements. As you know, the best way to succeed in a business is to see what your competitors are already doing.
Basically, Minea allows you to be inspired by what is already working on the market in order to replicate it in your e-commerce store.
What are the features of Minea?
For your dropshipping winning product search, the first tool or feature of Minea that you will use is its product search tool.  Since Minea spies on several social networks, Minea's product search tool is subdivided into several parts.
You have:
A product search tool for

Facebook

and Instagram;

A product search tool for TikTok;

A product search tool for Pinterest.
Depending on the type of product you want, you're going to gravitate toward one of these tools. Note that the functionalities are the same for each tool. It is a kind of database in which you will have all the advertisements that are broadcast on each of the social networks.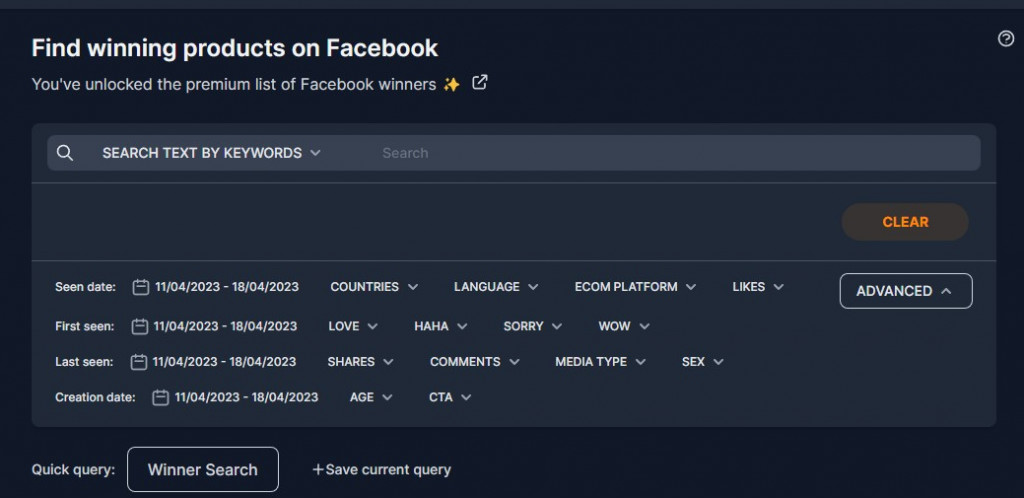 To facilitate the product search for its users, Minea offers filters that allow you to optimize your search according to your preferences.  You can search by:
Keyword;

Domain name;

Date of publication, date of view;

Country;

Language;

Number of Likes, shares, comments;

Type of e-commerce platform;

Number of downloads;

Number of views.
After your search, Minea also allows you to further analyze the trend of a product by providing you with important information regarding the performance of this product on social networks.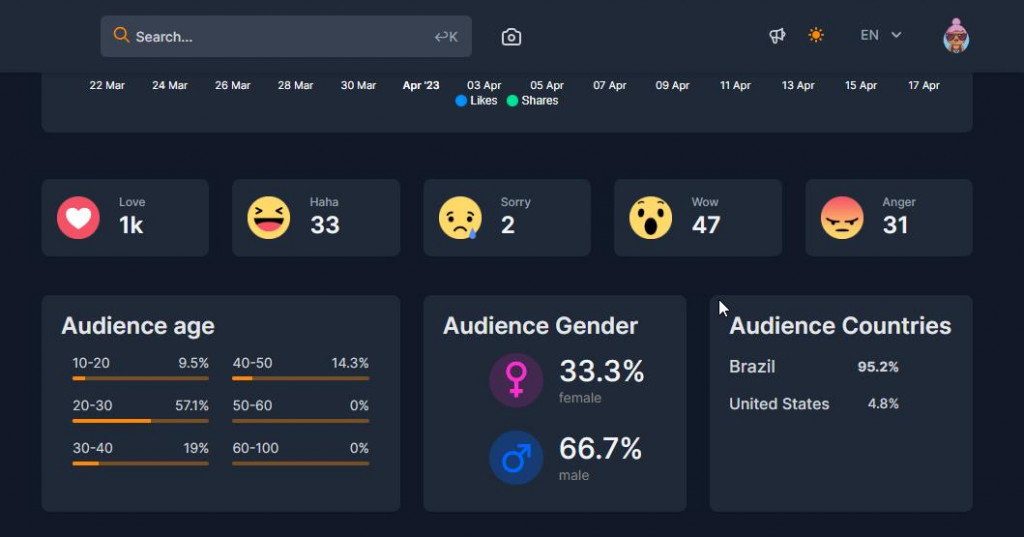 So, for each ad you find in the Minea library, you can have information like:
The duration of the ad online;

The social engagement of the ad (Views, Likes, Shares, Downloads, Shares…);

Other ads from the same store;

The complete analysis of the store;

Target audience;

The link to the store.
This product information will confirm or deny the potential of your product.
Besides the product search tool, Minea also offers several other equally useful features. For example, you have the store spy tool that allows you to spy on your competitors' stores and the influencer marketing spy tool that allows you to spy on all product placements made by your competitors.
Don't hesitate to test Minea for free to find your first winning products in e-commerce.
What to do after finding the winning product?
Once you have identified potential products to sell, it's important to test their performance before investing too much time and resources into them. Testing product performance can involve conducting market tests and surveys, evaluating customer feedback and product reviews, and adjusting product features and pricing as needed.
Market tests can help you understand how well a product is likely to perform in the market. You can conduct market tests by launching a small-scale advertising campaign or selling the product in a limited capacity to a specific group of customers.
This can help you understand how well the product is received and identify any issues with pricing, marketing messaging, or product features.
Finally, Customer feedback and product reviews are also critical in evaluating product performance. This can involve reviewing customer feedback on your own website, as well as third-party sites like Amazon or social media. By understanding what customers are saying about your product, you can identify areas for improvement and adjust your marketing messaging as needed.
It can be quite difficult to do all this manually. It can take quite a lot of time and financial investment. To avoid this, Minea offers you its Business Plan, thanks to which you will only have products that are already working on the market.
This means that with these products, you will no longer have to perform testing to identify the performance of the product on the market. These are products that are chosen by highly developed artificial intelligence based on several criteria. This is the best way to find the best products on the market.
Advertise your winning products through various marketing channels
When you already settled best products to sell, it's time for some heavy advertisement. This step will ensure the more people will be able to discover your offer, and scale your revenue from this business.
However, if you start advertising, don't forget to invest in software that will do analytics of your ads. RedTrack offers an all-in-one analytics & automation platform for advertisers who want to create an ultimate $-efficiency for their ad spend vs. returns. With RedTrac you can:
integrate all of your marketing channels & tools in one place;
analytics every single campaign, ad group or ad set according to the KPIs you set;
automate performance with AI Rules!
Conclusion
In conclusion, finding the right products to sell in e-commerce requires careful research and evaluation. By conducting market research, evaluating product viability, choosing a product niche, finding product suppliers, and testing product performance, you can identify winning products that will resonate with your target audience and drive sales. Utilizing tools like Minea can help you streamline this process and gain valuable insights into competitor ads and winning products in your niche.
As you embark on your e-commerce journey, remember that success takes time and effort. Don't be afraid to iterate and adjust your strategy as you learn more about your customers and the market. By taking a data-driven approach and utilizing tools like Minea, you can stay ahead of the competition and build a successful e-commerce business.