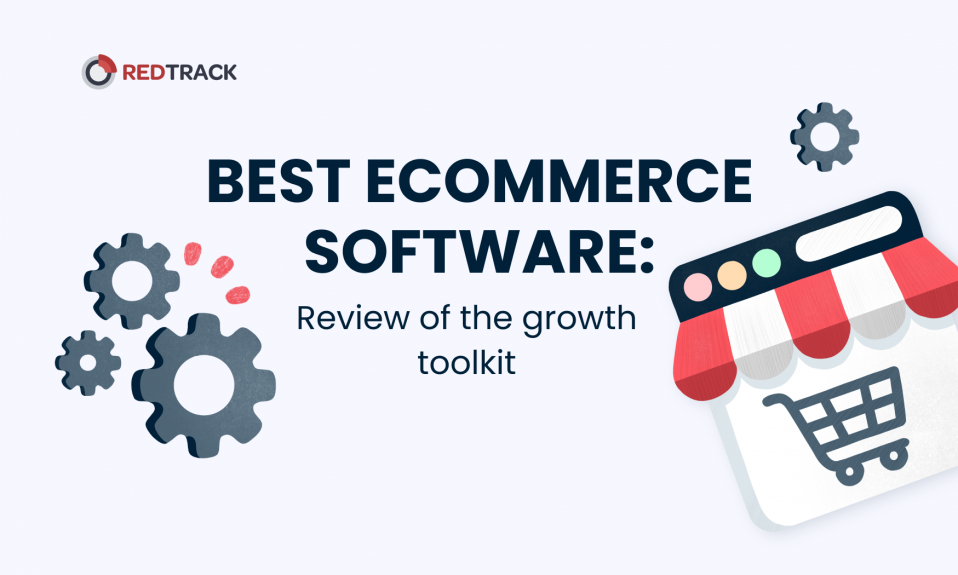 Are you bothered by the eCommerce competition in 2022? Then you need to take care of the eCom software that will help you beat your competitors and skyrocket your eCommerce store.
We prepared a list of the best eCommerce software to help you do just that. You can not run a successful eCom store without a few tools that will manage the platform, control marketing, manage finances or manage relationships with customers.

So we prepared a brief review of the eCommerce growth toolkit for you, to make sure you have all the needed solutions & software to give a boost to your eCommerce business.
We will go through the following categories: 
eCommerce platforms

Marketing & advertising 

Analytics 

CRM for eCom

Finance management 

Customer service tools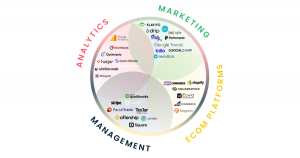 Best eCommerce platforms 
Probably one of the most important things you want to figure out when starting or improving eCom business is gonna be choosing eCommerce platforms and plugins.
What is eCommerce platform?

eCommerce platform allows connecting the end consumer and the seller. It's a special application or software that makes it possible for both: you to sell goods and customers to find them and purchase. 
When choosing your eCommerce platform, you predefine how smooth the seller-customer relationship will be going. So be sure to take a look at these features and qualities: 
How easy it is to integrate

User interface (for you as the website owner and for the customers)

Design options & how customizable the platform is 

Integration with advertising & marketing channels 

Payment integrations 

Support team 

Security and reliability 
1. Shopify
Probably one of the most well-known eCommerce platforms for SMBs is Shopify. No wonder why, it's super easy to use and understand, integrate with other platforms. You can find various themes and templates to customize your eCom store, add payment processing, add tracking of the orders & more. On top of that, it's a super-secure and reliable platform. 
Still, there are some downsides to Shopify, such as it can get expensive over time and if you're budget-conscious, consider Shopify alternatives for creating and managing your online store.
2. WooCommerce
It's not a platform, but a very handy tool that will enable you to create a fascinating store. WooCommerce is a completely free plugin for your WordPress website. If you ever created a website on WordPress before, you know how easy and native the process is.
With a simple plugin from WooCommerce, you can activate your eCommerce business on this website. Users love it because it's so simple to integrate, customizable, and also secure. 
3. BigCommerce
BigCommerce is a SaaS (software as a service) solution that allows starting your eCom store. It has 12 free templates, it's easily customizable, and has integrations with major payment gateways. You can also tweak the code (HTML and CSS), so it makes it a competitive advantage.
BigCommerce also has a 0% transaction fee for all payments on the platform, which is great. 
4. Adobe Commerce (prev. Magento)
Adobe Commerce (previously Magento) — yet another popular eCommerce platform to build your own store. It's free to download, but also has a paid version focused on the enterprise. However, this platform might require some code tweaking to get the result you need, so be prepared to hire a developer. If you prefer an easy UI, we recommend sticking to the eCommerce platforms described above. 
5. Squarespace
Squarespace is a website builder with eCommerce functionality. This platform allows to build sophisticated landing pages, so if you care about design — it's a must recommend. It also has great inventory management features. However, Squarespace lacks a few integrations if you compare it to Shopify, WooCommerce, or BigCommerce.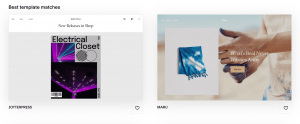 6. Ecwid 
Ecwid is probably the best tool to start your small store since it's very simple to use and it allows you to create an eCom store from any website or even social media page. 
It's a simple widget that you can integrate with pretty much anything you already use.
This solution might be more affordable than others since it's a plug-n-play format for existing websites. However, there are more expansive plans that will allow advanced features. 
eCommerce Marketing Solutions 
Before you are gonna start an eCommerce store, it's better to have a plan on how you are gonna market it. The competition is real so you need to plan a very distinctive marketing strategy that will be promoting your business and helping sales. To help with all the planning, check out our eCom marketing strategy guide. And best eCommerce marketing tools you can find below. 
Email marketing tools for eCommece
Email marketing is a great tool for eCommerce since it allows to connect with customers and increase conversion rates. Let's see which tools will help you do just that. 
1. Klaviyo
Klaviyo is probably the most popular email and SMS marketing solution for eCommerce. It's easy to use and it integrates with major eCom platforms from the previous block. You will be able to send timely emails and SMS to your customers in order to increase their LTV (lifetime value). Klaviyo also helps you understand how much revenue was brought by each email campaign thanks to its integration with eCom platforms. 
2. Drip 
Drip is a very interesting tool since it's not only an email marketing solution but also an eCommerce CRM platform. With Drip you can customize sequences depending on the user behaviors (for example, to win back abandoned carts). Also, it has great design and UX which makes it super easy and pleasant to use. The CRM part of drip will be able to keep the customers' data which you will be able to use further down the funnel. 
3. Privy
Privy is a great tool to capture your leads that can potentially become customers. It's a solution that allows to build captivating pop-ups and capture emails, further creating sequences that will boost revenues. Find loads of helpful templates that will help increase conversion rates. 
Other eCommerce Marketing & Advertising tools 
1. Google trends 
Every marketing campaign starts with research. And Google Trends can help you do just that. With help of this tool, you can find the product's seasonality, perform keyword research and therefore, improve the marketing and advertising you do. You might have the right product, but you are selling it with the wrong title or at the wrong time. Google Trends will prevent you from doing this mistake.
2. Answer the public 
It's similar to Google Trends, but Answer the public is more of a consumer insight tool. It takes all Google and Bing searches and visualizes them in a way that lets you understand what people are asking for (or searching for) on the web (see example below). Those diagrams can help you realize a particular angle for marketing or even broaden your product choice.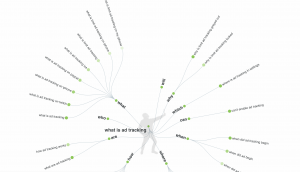 3. Mention
Mention will simply help you to keep track of your customer (or competitors) mentioning you around the web. This tool gathers all the mentions (on websites or social media) and takes them to your email. Very simple functionality, but actually works wonders for your audience listening tasks. 
4. Socialchamp
Socialchamp will help you consolidate your social media activities. If you run multiple social media channels (and you probably do), then you will be super annoyed to post from each platform. Socialchamp allows you to schedule all your social media activities and save time on cross-posting. 
5. Canva
If you are just starting out and don't have a budget for a designer, why not become one? Canva helps you create unique designs for all purposes. They have hundreds of templates and elements that you can use for your ad creatives or social media posts. They also make it simple for you to adapt pics for different platforms (with the use of resizing feature). Canva also has the ability to create gifs and simple animations!
6. Perfomante
If you believe that great creatives and animated content can change your marketing, Perfomante can become your partner. It's a platform where you can order 2D, 3D, or UGC videos made by professionals. They have a great portfolio showcasing beautiful animation works, so consider this solution if you want to step up your game. 
7. Billo 
Billo is similar to Perfomante, but they are focused on UGC type of content. You can order great how-to videos, unpacking, reviews, and videos ads in the app. Since UGC videos ads are a big part of eCommerce growth (especially if you advertise with TikTok or Instagram), you should definitely add Billo as your creative partner in a marketing stack. 
8. Syte
Syte is a great tool that allows simplifying the discovery of your product. This tool helps you to add visual search as a part of your eCommerce store. They also allow next-level personalization that will help you find more customers. 
Analytics for eCommerce performance  
Many eCom owners forget about analytics when they just start their business. However, only analytics tools will help you understand the real numbers of your performance and correct mistakes before it's too late.
1. Google Analytics
Google Analytics is a great staple tool for business owners and marketers wanting to find out the metrics behind the performance in order to optimize it. Google Analytics allows controlling the performance of your website, all the landing pages. You can also see what are the main sources of traffic for your business and create custom tracking links with the use of Google Tag Manager. 
Google Analytics lacks some advanced features, but it's a great tool to start your analytics adventure.
2. RedTrack
RedTrack is a more advanced marketing analytics solution that allows you to control all of your marketing channels in one place and integrate with major eCom platforms (like Shopify or WooCommerce). 
Not only you will be able to see the performance (like CR (conversion rate), clicks, add-to-carts, abandonment rate, revenue generated, ROI, etc.) in your RedTrack dashboard, but you will be able to send all the needed data back to advertising channels (Facebook, Google, TikTok) to improve targeting & optimization. 

Another cool feature from RedTrack is a Partnership Portal. It allows creating an affiliate program for your business in order to attract affiliate marketers and referrals to promote your store. Besides, you can also run efficient influencer campaigns by issuing promo codes or links and controlling the numbers behind your partners. 
3. Hotjar
Hotjar is a smart tool that will help you analyze user interaction with your website. Hotjar shows short of a heat map of your website where you can clearly see which buttons or blocks are more often interacted with. With help of this interactive map, you can make decisions about changing the design, structure, and logic of your web stores.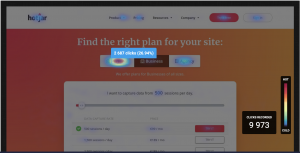 4. Optimizely
Optimizely is a great platform to implement experiments to optimize your conversion rate by a unique a/b testing strategy. As an example, with the use of Optimizely, you are able to create multiple CTAs (call-to-actions), illustrations, forms, etc., and test what works best live. 
5. Prisync
Prisync allows you to monitor and analyze all things prices. You are able to see the pricing your competitors make, as well as see the historic changes in prices (depending on the seasons). When putting Prisync in use you are able to maximize your competitive advantage and control the movements on the market, which is crucial in a tough eCom world. 
6. SimilarWeb
SimilarWeb allows performing analytics of the whole segment of the market. This tool allows you to perform behavioral analysis of the consumers (how they shop in your store), also do competitive analysis (see the marketing of your competitors). Besides, you can also check the benchmarks for the market to see if you can optimize your performance and increase revenues. 
7. Kissmetrics
Kissmetrics will let you connect to Shopify and optimize your checkout funnel, increase sales and see lifetime value by category. You can also control all the major metrics, like revenue, CRs, etc. Kissmetrics also makes it easy to find any problems in your funnel and places where customers drop off.
Recommended CRM for eCommerce
CRM is a customer relationship management software that helps keep track of all of your customers and store the data about your interactions.
CRM will take control of your sales pipelines and also allow you to connect with customers (with email marketing or other marketing automation tools as well).
1. Marketo
Marketo is also a part of Adobe Experience Cloud and is a great CRM for eCom. Just like many CRMs, Marketo will store the data behind every customer of yours, including interactions you have. This tool also enables marketing automation, lead magnet generation, supports email sequences, and allows to do revenue attribution (aka understanding which channel or tactic brings revenue).
2. Zoho
Zoho is a great set of tools that will help you build a successful eCommerce business. Zoho combines an easy eCom builder, management for in-store operations, CRM system, and an extensive list of integrations (from postal services to payment gateways). Zoho also offers personalization for your customers, solution for recovering abandoned carts, reporting, and analytics. With that being said, we all love a combination of multiple solutions in one tool — and that's Zoho.
3. Edrone
Edrone is an AI-powered CRM for eCommerce that allows analysis of your interactions with customers. In Edrone you can find marketing automation solutions, referral program, e-mail marketing kit, and customer care functionalities.
This CRM system allows you to use data about your customers in smarter decisions. Whether it's about your inventory, marketing & messaging, or communication with the audience.
4. Hubspot
One of the giants of the CRM world, that still works wonders for eCommerce — Hubspot. Its functionality for eCommerce includes inbound marketing and personalization, tracking, and attributing of your revenue streams. Also a set of features to make sure users on the web become your customers. A competitive advantage for HubSpot is integration with Shopify and WooCommerce to connect all of the dots.
5. Salesforce Pardot
Salesforce being one of the biggest CRMs on the arena has a wonderful extension — Salesforce Pardot to simplify business for eCommerce owners. The combination of these tools will allow you to do all the magic of CRMs: store customer data in one place and amplify marketing automation techniques. Email marketing, lead generation, specialized funnels, sales data, ROI reporting — everything can be found in Pardot.
6. Pipedrive
Pipedrive is an all-in-one sales platform. It's super easy to use, allows you to measure the results of your activities and schedule particular actions (like campaigns, launches, etc.). Pipedrive also has marketing automation and email marketing. At the same time this tool has an impressive list of integrations allowing you to connect all of your tools and sync up.
7. Monday
Monday is a new-wave CRM for eCom. Top features you will be able to find at Monday: sales pipeline, content management, sales management, lead capturing, and lead management. Besides, since Monday is software for team management, it makes it easy for your team to collaborate on all the projects you are running.
This tool is probably one of the most customizable and easy to tweak to get exactly what you need from the software.

Tools for Finance Management for eCommerce
An important part of all eCom shabang is dealing with financial services and payment getaways. You need to make sure you found a solution that makes the process easy on both ends: customer and seller. Here are a few platforms that will help you do that.
1. Juni
Juni is a Swedish fast-growing startup that focuses on simplifying financial adventures for eCommerce and entrepreneurs. You will be able to track all of your funds in a single dashboard with help of dozens of integrations Juni has (e.g. Shopify, Facebook, Google, etc.).
You can issue cards that are easy to use for online advertising and also get cashback on all of your spendings!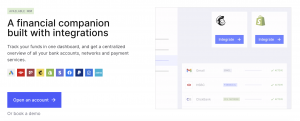 2. Stripe
Stripe is one of the most popular payment infrastructures for eCommerce. You can set up both: payment processing from your customers and payout sending (if you need this functionality).
3. Square
Square started as another platform that makes it easy to accept payments from anywhere for your eCommerce business. But now it also has an eCom platform functionality and helps you to start your own eCom store. It's a great way to combine your eCom platform with a payment getaway and keep all the data in one place.
4. Synder
Synder is there to make accounting for eCommerce easy. If you are a eCom store owner, you still won't get away with all the routine accounting tasks. And Synder digitalizes the whole experience by making it possible to generate an accurate P&L, balance sheet, and other reports with just one solution.
5. Quickbooks
Another example of a digital accounting experience is Quickbooks. This tool helps to track all the expenses, create reports and manage the bookkeeping for eCommerce business. Also, you are able to create and customize invoices with help of Quickbooks.
6. TaxJar

Are you familiar with taxation for eCom? If not, you will need the help of the following tool. TaxJar is a company by Stripe that automates the whole tax process for online sellers. TaxJar can manage all the calculations, reports, and filing. And it works across all channels that you can possibly use.
Customer service tools for eCommerce
A big part of your eCommerce journey will be dealing with customers and finding ways to comfort them / solve their problems. So here are examples of the tools that will help you do just that.
1. MyAlice
MyAlice is the modern customer service and social selling platform for growing eCommerce brands. It allows combining your support from different social media channels in one place to keep track of all the interactions with customers. You can also create automated sequences for repetitive queries and save time on extra communication where it's not needed. Unlock the full potential by connecting with Shopify or WooCommerce to manage your sales and have all the data about the customer at your disposal.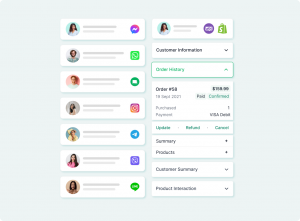 2. Yotpo
Yotpo makes it easy to create loyalty and referral programs for eCommerce. Those programs are a great way to drive customer loyalty and create a constant flow of new users. Yotpo will do the heavy lifting for those tactics.
3. Drift
Drift is a revenue acceleration program. In a nutshell, Drift focuses on conversational sales and marketing. Basically, you will be able to automate and personalize your communication with website visitors through a chatbot.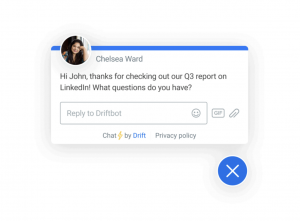 4. Zendesk
Zendesk is another chatbot tool to simplify communication with customers. You can use this software for both: increase sales and quickly handle all the complaints and possible problems a customer may face. A chatbot is a must when starting an eCommerce business.
5. ReferralCandy
What makes a happy customer? Additional bonuses! A popular strategy would be to start a referral program and here ReferralCandy becomes handy. With help of this tool, you can start a referral program that runs by itself, control the results and also prevent possible fraud. ReferralCandy is integrated with all major eCommerce platforms, which is a great plus.
6. Smile.io
Another tool to bring customer loyalty to the party. Smile.io will help you reward your customers with points to motivate them to come back and make more purchases. You can target rewards for different actions (social shares, purchases, account creation, birthday, etc.) and choose what kind of rewards it's gonna be (discounts, free products, free shipping, etc.)