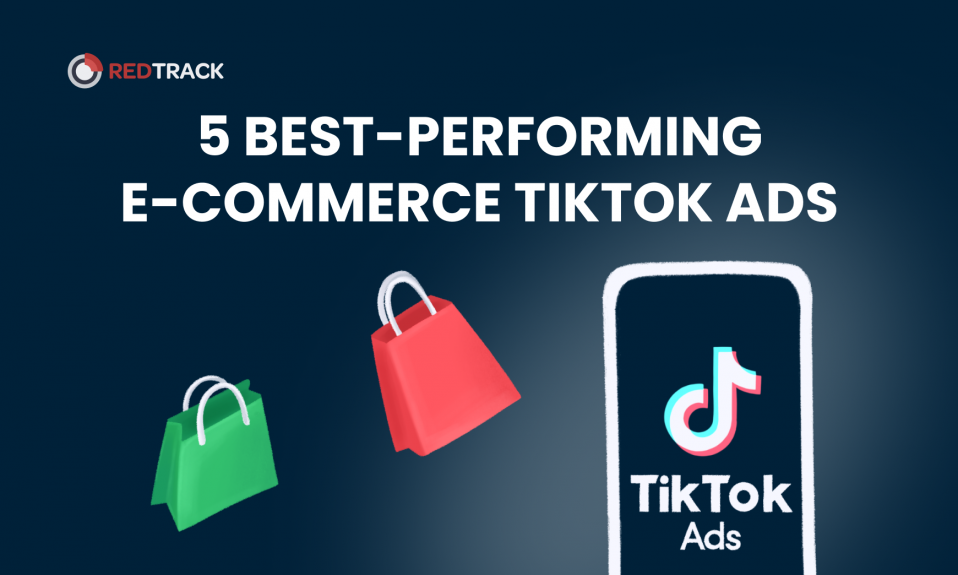 Audiences are copping on to our marketing tricks. They're tired of polished product photos and thinly-veiled sponsored posts. So is it any wonder they're massively flocking to TikTok?
If you're an eCommerce store owner, it's time. You can't ignore TikTok anymore. It reaches almost 18% of all adult internet users and deviates from the polished marketing that customers now find gimmicky.
TikTok is the right place to show your brand's true face.
And today, we'll show you the best TikTok ad examples for your next eCommerce campaign.
Let's dive in!
1. eCommerce TikTok Ads that Look (and Perform) Organic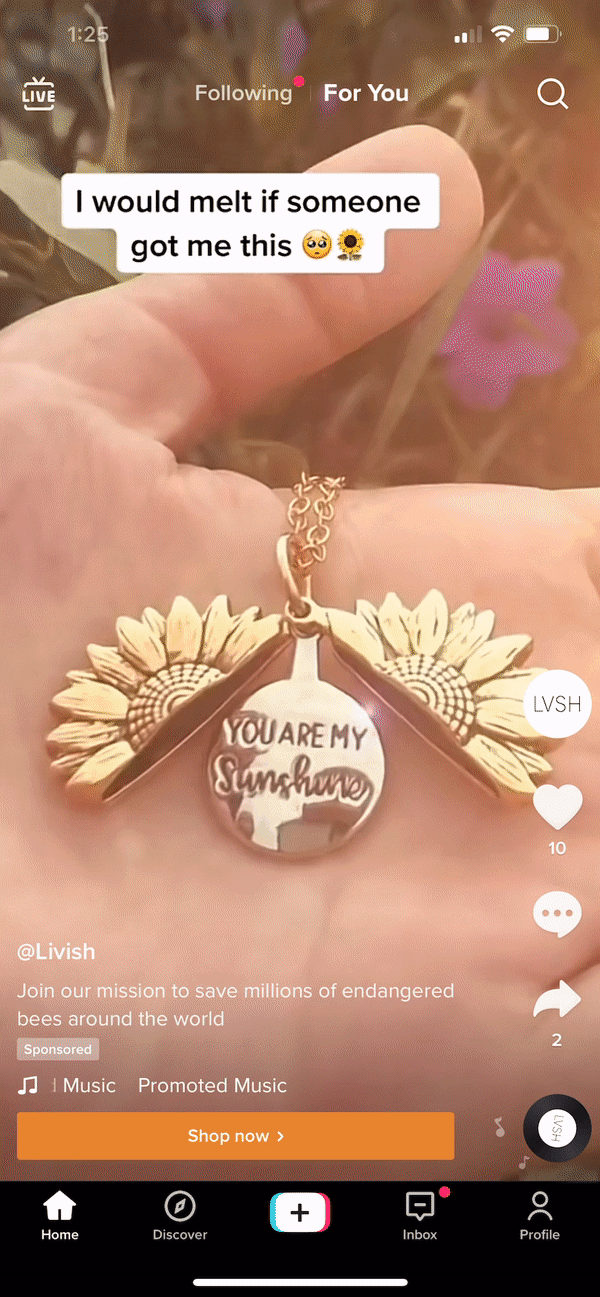 Source: Statusphere
 Take notes from Livish's ad example if your products are visually appealing.
Their In-Feed TikTok ad blends in perfectly on the FYP (for-you-page). Paired with unfiltered photos that look like user-generated content and an emotional caption, it's a hit for top-of-the-funnel audiences.
Why We Love This eCommerce TikTok Ad
Perfect for increasing website visits and sales!

It looks like organic user-generated content, so the audience gives it more consideration.

It knows that

purchasing decisions are made emotionally

, then explained logically.

Create it quickly, even if you're not a TikTok advertising pro.
2. Strong Offer? Premiere It with a Top View eCommerce TikTok Ad
Good in-feed ads stop the scroll, but a fantastic Top View TikTok ad delivers results long after the campaign is over.
Source: https://www.tiktok.com/business/en/inspiration/james-allen-640
JamesAllen.com, a Canadian jewelry retailer, ran a TikTok ad for their seasonal eCommerce offer.
With a friendly presenter decked in Canadian holiday garb and an offer you can't miss, the Top View ad increased their purchases by 90% and decreased their customer acquisition cost by 80%.
Why We Love This Ad
Top View ads are perfect for immediate sales

and

long-term brand recall.

Show your personality – TikTok audience loves authenticity!

Target the entire funnel; track brand awareness and conversions over a longer period because

TikTok ads generate results

even after the campaign ends. 
 💡 Ready to launch your TikTok campaign?
Check out our in-depth guide to TikTok ad campaigns. 
3. Loved Facebook Carousels? You'll Love Dynamic Showcase TikTok Ads!
Sometimes you want to kill two birds with one stone, and who can blame you? If you're a fan of Facebook carousel ads, you'll love the newest TikTok ad type: Dynamic Showcase Ads.
Source: https://www.tiktok.com/business/en/inspiration/aerie-397
But there is a catch! Unlike carousel ads, Dynamic Showcase Ads are highly personalized to the user watching them.
Set up your marketing analytics. Then, use DSA to retarget website visitors or reactivate customers to increase their lifetime value. That abandoned cart won't look so abandoned anymore!
In Aerie's case, DSA helped; their acquisition costs decreased by 27%.
Why We Love This Ad
You're always on the lookout for ways to get more bang for your advertising buck. Dynamic Showcase Ads help you

make the most of audiences who are already familiar with your brand

.

Upload your product catalog once and let your campaign run on autopilot. TikTok will take care of the targeting.
4. Let the Professionals Handle Your Ads with the TikTok Creator Marketplace
TikTok's Creator Marketplace is another unique TikTok feature. Work directly with established TikTok creators to get 91% higher view rates (in comparison to non-creator ads).
Source: https://www.tiktok.com/business/en/inspiration/newton-baby-254
Newton Baby contracted 3 TikTok creators to film funny prank-style videos showcasing their washable baby mattresses.
The videos turned out great, generating over 290k views with an average engagement rate of 19.44%.
Why We Love This Ad
Don't turn into the

"How do you do, fellow kids?" meme

.

Being friendly and approachable means partnering with creators if you're a moderate-to-big eCommerce brand.

If you execute this campaign well, you could increase sales and gain long-term brand traction.

TikTok Creator Marketplace ads are a great way to announce your organic brand presence on TikTok.
5. Inspire Your Audience with Your eCommerce TikTok Ads
Remember when we said that emotion sells? TikTok audiences admit to it; 39% of users say that "lifting spirits" is a key purchasing factor.
Inspiration doesn't happen on demand, but "transformation" videos do.
Source: https://www.tiktok.com/business/en/inspiration/wordans-115
Wordans is a clothing eCommerce brand that focuses heavily on young demographics. They partnered with micro TikTok creators to create inspirational and lighthearted videos, generating almost 120k views and 5k likes.
Why We Love This Ad
TikTok wants to be

inspired

. You can't go wrong with

authentic before & afters or funny transformations.

 

That doesn't just go for your ads: test it in your organic content.

You run a campaign once, but

you keep seeing results

. If TikTok remembers you, viewers will drive more branded searches and traffic in the months to come.
How to Evaluate Your TikTok Ads
You can't decide if TikTok ads work for you unless you crunch the numbers. Fortunately, there are two options for TikTok conversion tracking: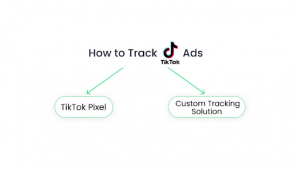 1. TikTok Pixel
The TikTok Pixel works similarly to Google and Facebook pixels. Once you insert the tracking code into your website, it'll monitor key metrics.
Unfortunately, TikTok's Pixel is client-side tracking. It can get blocked by ad blockers and privacy updates.
With TikTok tracking, your conversions won't always be accurate.
2. Tracking eCommerce TikTok Ads with Custom Solutions
Custom tracking solutions integrate with your website and your marketing stack.
Think of it this way: TikTok tracking is a chip your visitors carry on their shoulders when visiting your store. (Sometimes, it falls off before they swipe their card.)
Custom tracking solutions use server-side tracking, which proverbially stands on the door of your business and keeps an eye on the footfall. Since it's tech integrated on your end, you get accurate reporting.
An ad tracking tool like RedTrack measures all your conversions, even beyond TikTok. It's your marketing headquarters.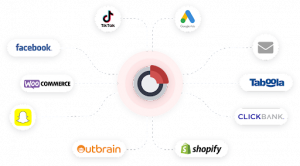 Once you integrate your platforms and channels, you'll see your metrics in the central dashboard. You'll know how every channel contributes to your revenue and where you get the majority of conversions from, so you can easily evaluate your return on advertising spend.
Ready to Get Started with TikTok?
TikTok is a fast-growing platform that attracts more than just a Gen Z audience. Plenty of users with high purchasing power make TikTok an excellent option for your next eCommerce advertising campaign.
Get inspired by our examples, and then get to work.
We can't wait to see your campaign on our FYP!