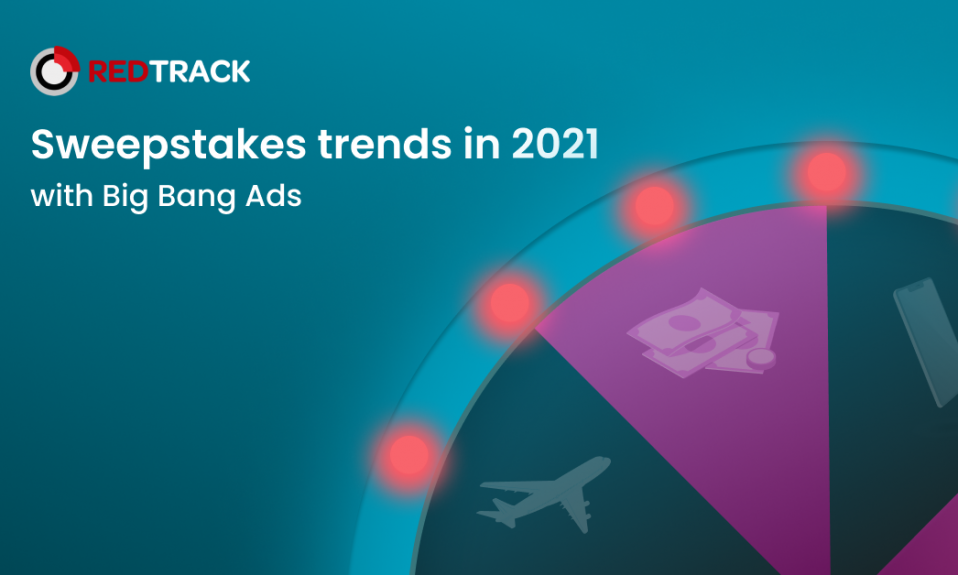 It was a truly shaky year, affiliate marketing industry including. Therefore, we wanted to learn more about one of the trendiest niches in affiliate marketing — sweepstakes. How did sweepstakes cope with all the changes that 2020 brought? Let's find out all the trends of sweepstakes in 2021 from Q&A with Big Bang Ads representative Vincent. 
Vincent Jouvin,
Business Development & Industry Specialist
Big Bang Ads Affiliate Network for Single-opt-in sweepstake offers
What are sweepstakes? 
Affiliate Marketing sweepstakes is a type of offer where users have to sign-up (or perform another target action) to win something. Some of the common prizes are travel vouchers, iPhones, gift cards, etc. 
Typically, sweepstakes are divided into 2 main categories: Credit card info submits and e-mail submits. 
 🖇 If you want to learn more about running sweepstake offers, make sure to check out our guide. But in this article, we are going to discuss the main changes from 2020 and trends for sweepstakes in 2021. Follow along! 
Running sweepstakes in 2021: Q&A with Big Bang Ads
2020 has been a tough year for many verticals and niches. But how was sweepstakes vertical doing this past year?
Lead gen sweeps are not different from other verticals. Our business model will exist for another 5 to 10 years. Of course, we are under the influence because our clients on the coregistration side (calls centers or direct clients) are impacted. However, we are in the industry for 20 years now because we were able to adapt, and we will keep adapting to make our company a success. 
What ad formats are trending right now for sweepstakes and you would recommend going for?
Vincent considers Facebook not a good place to start running sweepstake offers since it's getting tricky. Many affiliates face account bans and other problems with Facebook Ads. On the contrary, push and pop traffic could be a good option where you are required to use less targeting, fewer tools and you have to invest less time to be truly successful.
Our media buyers at Big Bang Ads are truly successful with Real-Time Bidding Advertising. The competition is not fierce there. If you can get a spot with an RTB platform, it's definitely worth a test!
Would you say that sweepstakes are still booming in 2021? 
I have been asked this question for all 8 years that I work with Big Bang Ads. If it is not booming, it is still the core business model for our company with more than 150 employees, it still feeds hundreds of affiliates worldwide, and new advertisers try their luck to enter the market every year! 
Have you seen a decrease in CR over the years as users are losing trust in the "lotteries" on the internet?
At Big Bang Ads, they believe that every problem (especially the one of losing trust) needs to have a solution. For instance, Big Bang created a "testers landing page", where users can test the product advertised on the offer page. Back a few years ago, Big Bang inserted prelanders before the conversion page in order to engage users on the flow. But now it is considered an industry standard and you will not see an affiliate redirecting traffic from the ad directly to the conversion page without using a prelander. 
A simple conclusion from these examples is that you always have to adapt and find creative solutions for your offers.
There is one thing we are sure about — there will always be plenty of users for 2 reasons. people want to win and people want things for free. This is ultimately what we propose!
What are the top-5 GEOs to go for then as of 2021?
From the Big Bang Ads experience these are the top Geos for sweeps: 
Europe: Germany, United Kingdom, Spain, Italy, and France

Asia Pacific: New Zealand, Australia, Singapore, Taiwan, or Thailand.
Would you recommend the same GEOs for newbies or is it better to start with less-competitive locations?
No matter you are an experienced marketer or a newbie, you need to have a good strategy. With a well-planned strategy, you can choose a Tier 1 Geo and go for Germany or Australia. But if you expect to have less competition in a Tier 2 (like Thailand), you are wrong!
Are iPhones still the most profitable prizes for sweepstakes or there are other products to look at in 2021?
iPhones are still amongst the top 10 highest revenue landing pages in every country that we run. But with the pandemic, the landing pages which have been promoted changed a bit.
Amongst the Top-10 worldwide popular offers, you would also find:
Carrefour voucher

Nivea voucher

Ferrero Kinder

iPhone 11 and 12

Decathlon or Amazon voucher
How useful is an ad tracker for affiliates who are working with sweepstakes?
A simple warning: Do not run lead gen sweeps without a tracker! You will not be able to automate, optimize and control your ad spend. 
At RedTrack, we offer ad tracking & conversion attribution solutions for solo affiliates or affiliate networks. With the features offered by RedTrack, you can easily automate your performance, analyze campaigns across all channels, and do data-informed decisions for optimization instead of creatives blind tests.
You have a chance to sign-up for a 14-day free trial to properly test the platform and see the influence on your performance. 
What strategies would you recommend for testing the campaign on sweepstakes? What metrics should they follow?
Vincent from Big Band Ads recommends looking at the following metrics: 
Metrics to follow would be the EPC (Earning Per Click) 

Metrics not to follow are payouts. Simple reason — advertisers scrub.
Strategies depend on your budget and the traffic source that you will be using. There are dozens of valid strategies. I will try to explain my strategy if I were to start with push traffic. 
Pick 3 locations
Germany (DE): strongest GEO at Big Bang

France (FR): a native language for Vincent

Belgium (FR): the French speakers in Belgium – native language with less competition than France
Create 3 landing pages per GEO
Vicent recommends selecting 3 landing pages per GEO: a 3 choice supermarket, a single supermarket, a trendy product like PS5. 3 landing pages for 3 GEOs, that's a total of 9 tracking links.
Create 2-3 creatives with prelanders
After looking at the landing pages, Vincent recommends creating 2 or 3 creatives with prelanders and set them on a 72 hours rotation with a 100€ budget a day per country on either Propeller Ads or Zeropark.
Remove creatives that do not work
In the first 72 hours, remove the creatives that do not work. That should be enough work for 72 hours!  
Maybe you can share the most interesting and unexpected insight from your statistics as of 2020-2021? 
We distributed in Europe the same amount of payout to affiliates in 2019 and 2020! 
Sources of traffic in volume on Big Bang Ads:
Push / pop traffic: 30% in 2019 VS 50% in 2020

Facebook + social: 60% in 2019 VS 40% in 2020

Email traffic: 10% in 2019 VS 10% in 2020
Any trend we should catch on before everyone does?
If you are waiting for the trend, you are probably already too late. Nowadays, affiliates being successful are the ones setting the trend, not the ones waiting for it! 
Overall, it means that you need to be creative. Do not look for someone else to provide you a clickbait sentence, an ad copy or a prelander. Instead, think and be the one creating the right sentence to catch the user's attention.