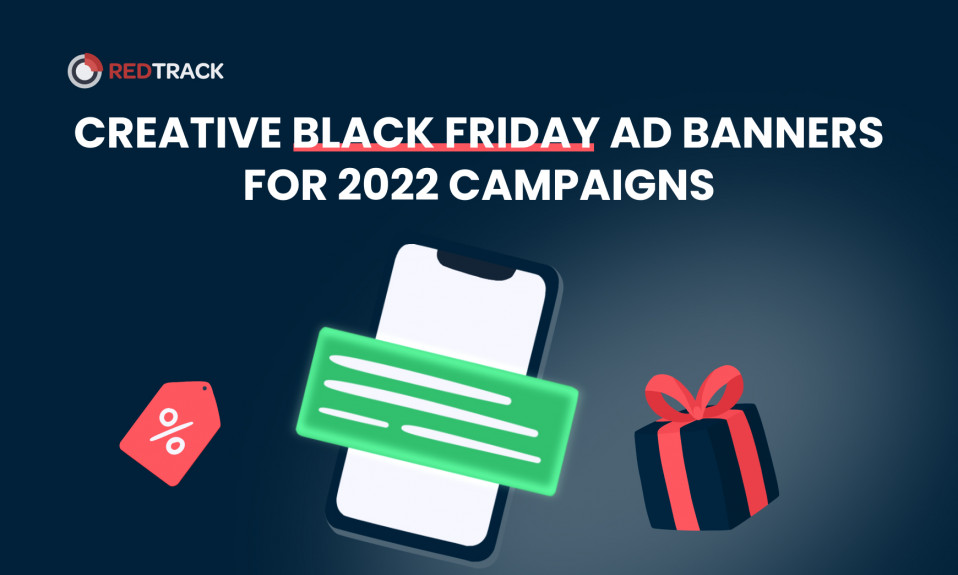 Don't judge a book by its cover but do judge the ad by its creativity. If you plan to launch an advertising campaign this Black Friday, don't pull any punches.
Instead, get inspired by the top 5 Black Friday ad banners for 2022!
#1 More Is Better or: How Kiehl Does Black Friday Ad Banners
One special offer is great – but the more, the merrier! 
Kiehl offered their audience the pick of the litter; they'd get one-off discounts or shop from a selection of fabulous discounted products.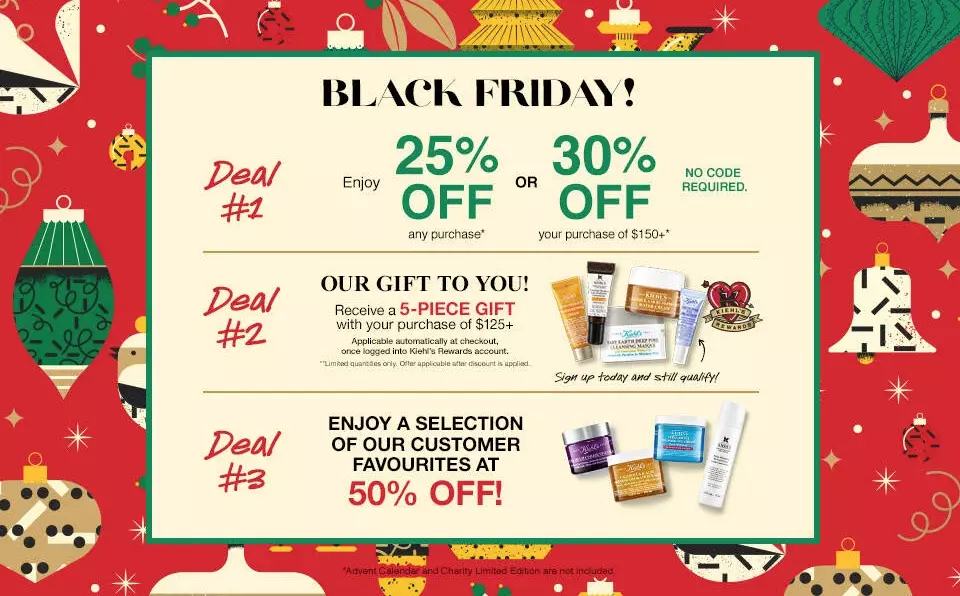 Seeing this ad banner on social media stops the scroll immediately; we're all drawn to choosing from a pile of goodies.
Key Lessons from Kiehl's Black Friday Ad Banner
Show audiences all the options you provide.

Don't stop at a discount; create a special offer and add something extra (like Kiehl's gift package) for the highest order values.
Identify your best-sellers and curate them for your new Black Friday audiences. Use an ad tracking tool to identify the best campaigns per channel and promote products with the highest chances for conversion.
#2 Set the Mood with Your Black Friday Ad Banner
As marketers, we often over-optimize for the benefits, forgetting that people make purchasing decisions with their emotions and then logically explain them. This holiday season, inspire your audience by learning from the best: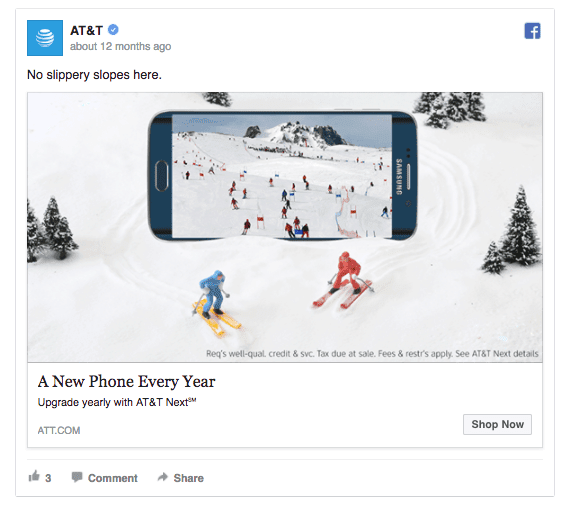 AT&T could have created a generic banner, but instead, their ad creative transports the viewer onto a ski slope. 
They're no longer invited to only replace their phone – they're invited to a new beginning.
Key Lessons from AT & T's Holiday Ad Banner
Why do people purchase your products?

Think about a pair of shoes. Do they buy sneakers to get to places they want to be faster? Do they buy stilettoes to feel glamorous? Understand the emotion and emulate it through your ad creative.
Let the visuals take the reins. Create a stand-out ad creative first, and mention your offer second. Remember that the goal is to stop the viewer from scrolling and consider your ad.
#3 If You Can Make Them Laugh, You Can Make Them Shop
You might remember the Dollar Shave Club for its bold advertising. Nothing's changed when it comes to their holiday campaigns: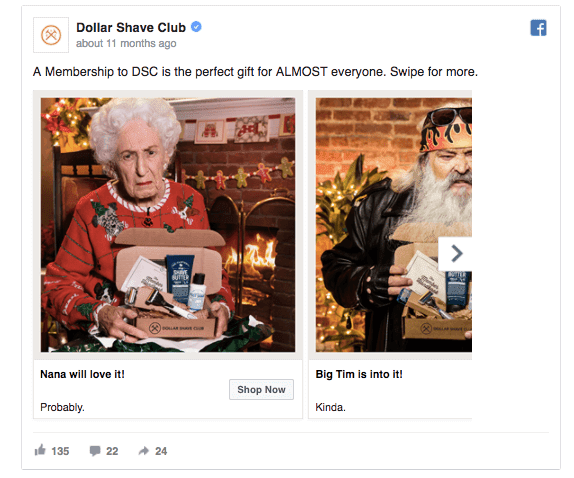 Even though this is a Christmas ad, it's never too soon to start thinking about gifts for your loved ones. 
DSC knows it well, so they combined humor with a great gift-shopping deal.
Key Lessons from Dollar Shave Club's Black Friday Campaign 
Is your audience open to humor? Leverage it.

Humor helps people relate to your brand and seriously consider purchasing. Turn preconceptions about who the audience is supposed to be around or use inside jokes for smaller niches.

Don't forget gift shopping.

If you can, test new audiences and target people who might get your product as a gift for the important people in their lives.
#4 Make a Celebration out of the Black Friday Sale like Apple
Black Friday sales might be expected, but that doesn't mean they can't be festive. Learn from Apple to create an ad banner that says a lot in a few words: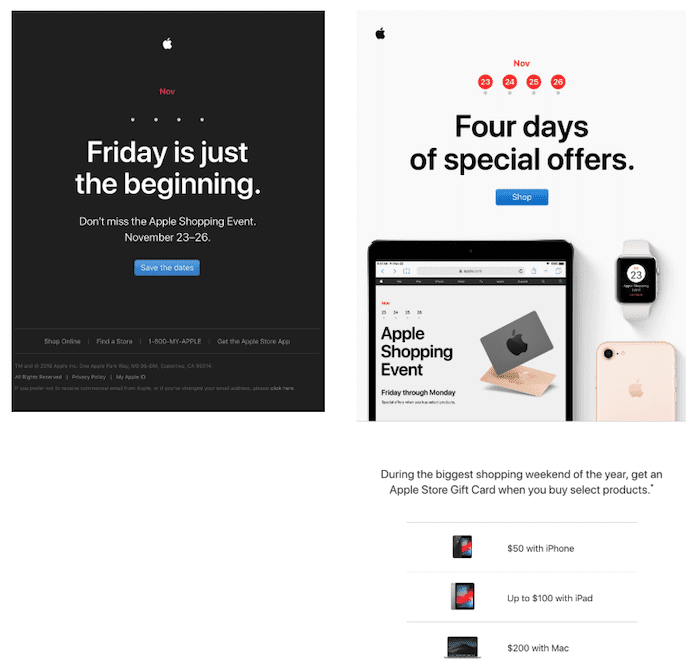 Another great pointer is the fact that Apple promoted its offer in advance. Since Apple products come at a higher price point, the early announcement helped their audience prepare.
Key Lessons from Apple's Black Friday Ad Banner
Announce your offer ahead of time

(especially if your products are expensive). Give your customers time to prepare for the purchase with a time-limited discount.

Your ad creative doesn't have to say much.

Reduce your copy to its essential idea to make it scannable and easy to understand
#5 Gamify Your 2022 Black Friday Ad Banner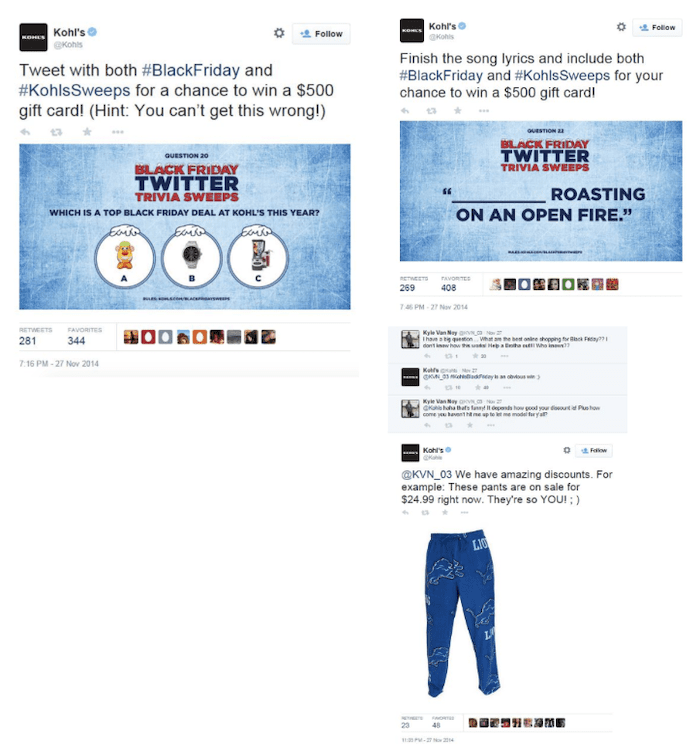 Finally, your Black Friday ad banner doesn't have to be a monologue where you present your offer, and the viewers decide if they want to take you up on it. 
It can be a fun activity for everyone with some gamification.
Kohl's ran a multichannel campaign on social media, which included organic Twitter content. However, you can use their example to create an ad banner that makes people engage with your ad (especially on social media).
How to Gamify Your Black Friday Ad Banner
Emphasize your referral offer or a discount.

If one of your Black Friday offers hinges on the shoppers doing something, mention it in your ad.

Incorporate

quizzes, guessing games, or fill-the-blanks

(that naturally end up with your products as the solutions). 

Don't forget that you are

launching an ad. Include CTAs, highlight your best-selling products, and stay engaged with the audience.
How to Prevent High Costs and Maximize Your 2022 Black Friday ROAS
Your ad creative is just the cherry on top of a well-structured Black Friday campaign. 
If you want to maximize your results this holiday season, you'll need to:
1. Prevent High Costs for Ineffective Channels
Since holiday ads can get expensive, ensure you have clear information on the most profitable channels ahead of time.
For example, if you run Facebook, Google, and TikTok ads simultaneously, review your RedTrack multichannel report to understand the ROI for each channel. Then, plan for the increasing costs by focusing on the most effective channels.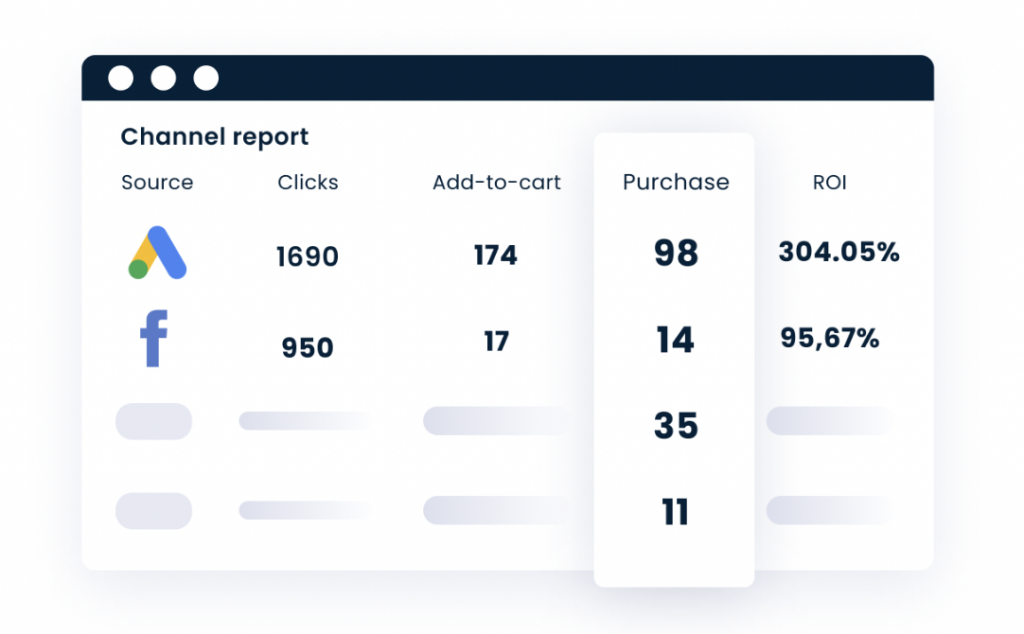 2. Prepare Your Affiliates and Partners for Your Black Friday Sale
Prep is half the work, so get in touch with your most profitable partners and set up a tracking framework. If you're unsure about affiliate and influencer promotion this holiday season, dive into your historical performance to find the partners who generated the most revenue for your business.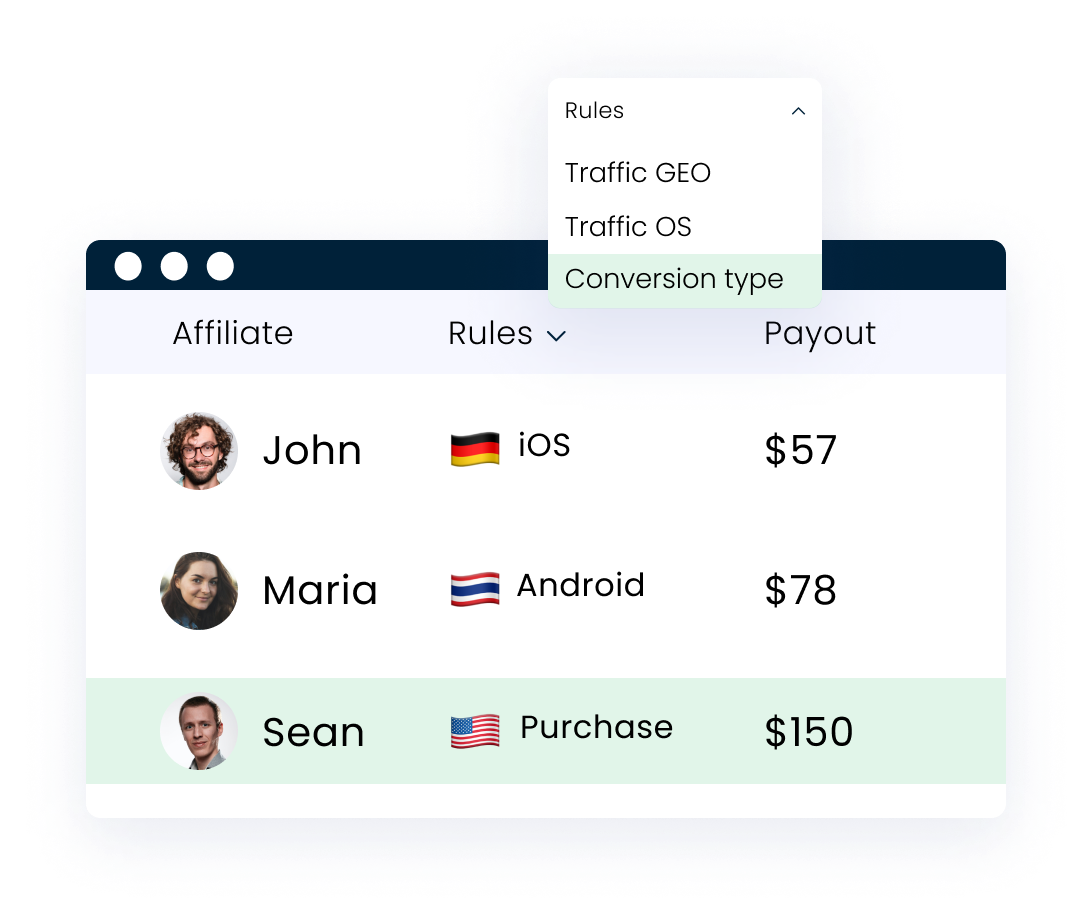 3. Improve Your Post-Black-Friday Marketing by Analyzing Conversion Journeys
Before you launch a high-impact Black Friday campaign, get your tracking framework in place. 
If your customers see your promotions across different channels, you need to know which one drove the conversion. 
Then, after Black Friday passes, you'll have the right insights to make every day your Black Friday.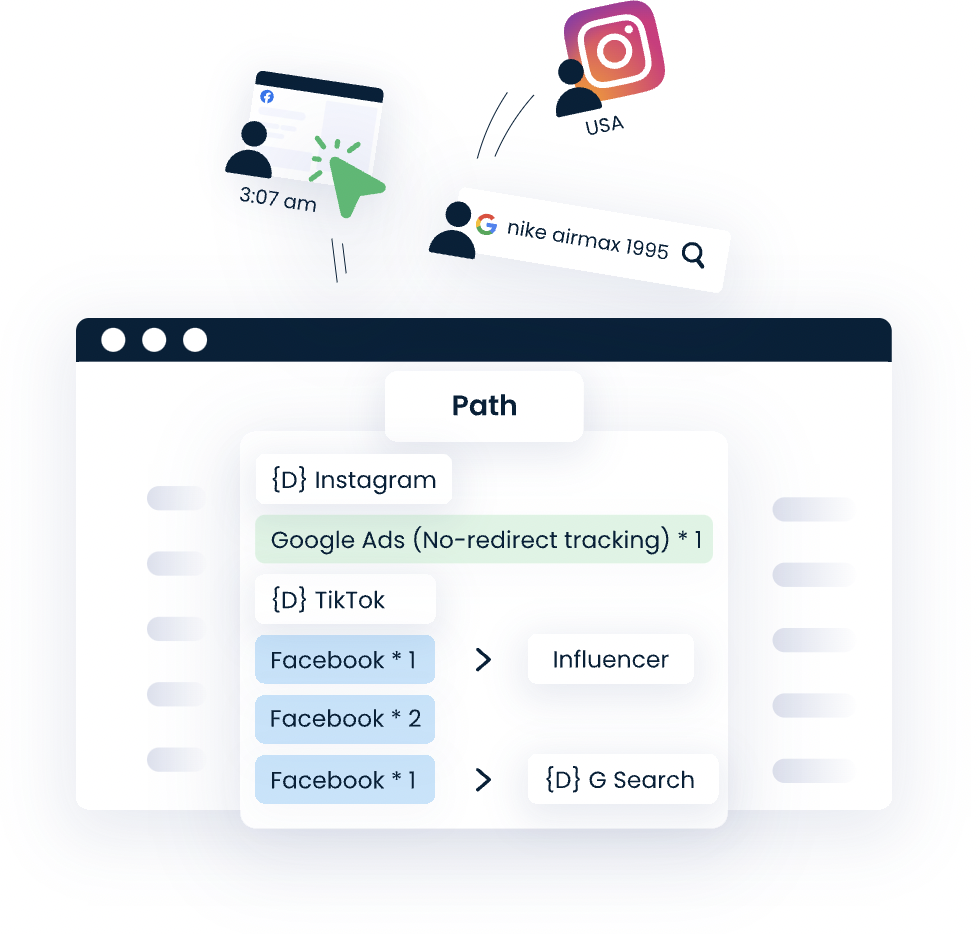 So if you need a reliable marketing partner this holiday season, check out RedTrack's eCommerce tracking solution. 
We've helped thousands of eCommerce stores grow with the power of easily understandable data.
Isn't it time you started inspiring and earning more with your ads?