By this year, the global eCommerce industry has been expected to reach a whopping $4.89 trillion. If you're looking to increase your companies sales, chances are you're going to contribute to this number and skyrocket in the revenue.
We've created a guide that will tell you what eCommerce marketing is and provide you with some tips to create an eCommerce marketing strategy that will blow your competition out of the water.
Are you ready? Let's go!
What is Ecommerce Marketing?
If you have an eCommerce store, you will need a marketing strategy to promote your products and sales; this is called eCommerce marketing. The best way to ensure that you increase your eCommerce sales is through a mixture of offline and online strategies.
Without using both, you're going to miss out on a segment of consumers that you need and don't want to ignore. As we continue on this eCommerce marketing journey, you must think about all facets of the sales funnel and create an eCommerce marketing strategy that benefits each.
If you want to get your fit in the door and maintain your competitive advantage, it's essential to take your eCommerce marketing strategy seriously.
How to Build Ecommerce Marketing Strategy?
As we move forward, it's time to create an eCommerce marketing strategy that consumers in your niche have never seen, but will flock to. As you design your strategy, there are several things you need to do.
Define your unique selling proposition (USP)
This is what's going to let potential customers know what you're selling and how it benefits them. Ensure that your proposition gives a unique angle that no one has ever taken before.

USP is what makes your eCommerce store stand out, states why users should choose you over your competitors.

Your proposition should answer such questions as to why your product is different, why consumers should settle for your offer, what is unique about your product?
Let's take a look at the NorthFace example of USPs.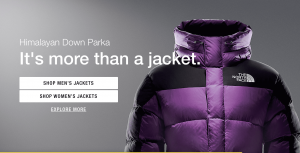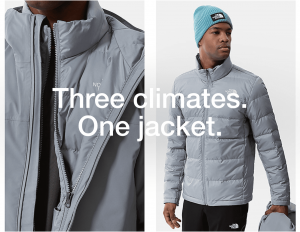 As you can see, they position their products as "more than just a piece of clothing". Viewing those banners you associate jackets with something long-lasting, universal, and adjustable. And no wonder, that when you think of an outdoor clothing brand, NorthFace is one of the first names that come to our mind.
Create a mission statement
From there, you must create a mission statement that reflects the goals and values of your company. When people see your brand, your mission statement should come to mind and be reflected in everything from packaging to marketing.

A great example is a mission stated on Nike's website: Bring inspiration and innovation to every athlete in the world.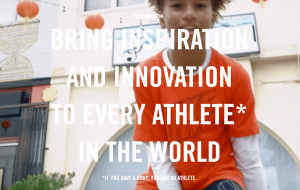 Don't be scared to strive for an ambitious mission. Even if you are just starting out, the mission reflects the whole path you are heading. So don't settle for less, choose the path you actually wanna take.
Define target audience
Next, you need to define your target audience, the people who will be using your products. If you don't know your target audience, you can't create a strategy worth launching.
As we will discuss later on, understanding your target audience will help you select proper marketing channels, advertising strategies, and even creatives. So not choosing the right platform can cause issues in the long-term success of your marketing campaigns.

Define key performance indicators (KPIs) for your eCom store
To finish crafting your marketing strategy, have a list of key performance indicators to monitor and make changes as necessary.

KPIs for eCommerce are special metrics that help you measure the results of marketing & advertising efforts and understand if you are moving to the right direction towards your financial milestones. 
Depending on the type of business you are running and your goals, KPIs may differ, but here are some metrics we recommend to look at:
CTR (click-through rate) — how many users clicked on your ad.
CPC (cost per click) — how much does every click cost for you.
CR (conversion rate) — how many users converted from your ads.
Add-to-carts rate  — how many users added to the cart.
Abandoned cart rate — the percentage of users who left the website after adding to the cart without purchasing.
Cost per unique add-to-cart — how much does every unique add-to-cart cost for you.
Check out rate — rate showing how many users end up buying.
Cost per check out — showing you how much you pay in advertising budgets for each check out.
CLV (customer lifetime value) — what you customer brings you over the whole period of interaction with your store.
Once you start marketing, you can adjust the chosen metrics that will suit you better.
What Marketing Channels You Should Use in Ecommerce
When it comes to the channels that should be used for eCommerce, you've got to ensure you choose the right one. When you're selecting a channel that meets your company's needs, you need to choose the one where your target audience spends the majority of their time.
Sometimes that means one channel, and other times it means a combination of several channels to push your companies message. Below you'll find some details about each channel.
Organic Traffic
Organic traffic is when customers discover your site based on the keywords you've used throughout your site, content, and across your brand's social media channels. From the search engine pages, consumers discover your site and move forward with finding out what your brand is about and how it can help them.
If you're looking to increase your organic traffic, you must take time to review your site to ensure that you've optimized where possible. Another way to increase organic traffic is investing in content marketing: creating articles, videos or other formats of content that could be looked for by your target audience. 
Paid Traffic
Another form of traffic is paid traffic, which means all the ads you've paid for to advertise your companies products and services. You can use several platforms to launch these ads (like Facebook, Google, Instagram, Twitter, TikTok, etc.) and again the channel you choose should correspond to your target audience. Probably one of the most popular channels for advertising within eCom industry would be Facebook Ads or Google Ads. Both of them have advantages and disadvantages, so make sure to learn the benefits of both FB and Google Ads in advance.
Once you chose your PPC traffic channels, you will have to invest in ad tracking to know which ads bring you the most value and reduce the budget spends on unprofitable channels and ads. 
Social Campaigns
Think of social campaigns as social media, which means all traffic to your site when potential customers visit your social media pages. You can boost your social media with paid traffic (described above), but also carefully crafted SMM strategy can bring a lot of visitors to your store. 
With people staying on social media for upwards of 145 minutes a day it can be used to increase your organic traffic based on the different types of posts you put on your social media pages.
Just make sure to create visually aesthetic brand on your social media and warm up the engagement. 
Email Marketing
300.4 emails are sent and received by people regularly, making email marketing a strong channel to use. This channel encompasses all the traffic your site receives through information emailed to your consumers.
You could use newsletters or confirmation emails to further your message and thank customers for shopping with you. Ensure that you find a way to personalize your emails as if you're speaking directly to the customer and no one else.
Once the customer's email is in your database, you have a great way to keep the communication going, but don't overuse it and make user unsubscribe by spamming them with a lot of letters. 
Display traffic
Display traffic is when you place ads for your business on other sites. When potential customers click on these ads, it will bring them to your site.
Usually, there are two types of this traffic:
Banner Ad — the other website puts a banner with a promotion of your offer. Many outlets do it according to the predefined flat fee or on a commission basis.
Referral link — it could be a link in article, comment section (or pretty much everywhere) that backlinks to your website.
Affiliate marketing
The last channel we are going to touch today is affiliate marketing which is also considered to be a third-party marketing method as it means attracting other marketers to advertise for you.
The best part of affiliate marketing is that you pay on a commission basis. Meaning that unless marketers makes sales, they won't be earning payouts and you as a eCom store owners will not be spending anything.
You can either hire solo affiliate marketers that will be using affiliate links (that's the way to know that this marketer brought the conversion) or make it official and start an affiliate program.
You can learn more on how you can use the powerful tool of partnerships through affiliate marketing (and not only) in the following video:
5 eCommerce Marketing Tips to Increase Online Sales
We understand you've taken in tons of information at this point, but we're not done providing you with need-to-know details. It's time to give you some tips that are going to make e-commerce marketing easier.
Not to mention it's going to help drive up your sales, which is one of the main goals that all businesses have. 
1. Cross-Sell Your Products
A customer has come close to the finish line, and they're almost ready to make a purchase; this is the time to try to persuade them to level up their product or purchase other products related to it. This tip will work well if your business has larger ticket items.
For example, Asos offers to buy the full look and offers items similar to the ones you just chose. 

When using this tip, ensure you've conducted a thorough review of your inventory to understand which products can be used in combination with others.
2. Improve the Customer Experience
The experience customers have with your company matters, and that's why it falls on our list of tips. Several things can be done to improve the customer experience: 
make sure your website is speedy
create a user-friendly UX
create a mobile-friendly UX (most of the customer shop this day via their smartphone, so you can also expand by creating an app)
make sure the purchasing instructions are clear, so users won't leave before buying thinking it's too complicated
implement chatbots to make sure there is support for those who are confused.
offer great customer service to customers before, during, and after the purchase of your products
3. Post Past Client Reviews
Potential customers want to know what other clients have to say about your products. Creating a space to post your past client testimonials can help to increase your conversion rate.
This will also boost your sales, which ensures continued business success. Make sure to remind your customers to leave their feedback or even reward them for doing so (e.g. 5% discount for the next order).
Another example from Asos shows also "customer rating" and helps you evaluate the quality and the size of the product using real people experience. 

4. Collaborate with Influencers
There are hundreds of influencers today with massive followings that trust the products they promote on their pages. If you don't have the following, but want to reach as many people as possible, you might look into working with an influencer.
Of course, influencers should also be amongst your target audience. You have to ask yourself: does your target audience follow this blogger? Do they trust this influencer?
One of the trends from 2021 is to actually ditch Instagram and YouTube influencers and invest in TikTok content. The costs are lower, but the coverage is way higher. Also, live videos seem to be more natural for eCom and create more trust towards advertised products. 
5. Use Videos
If you've got lots of information to share with people, you should start using videos. Videos give you a way to share information in a way that's engaging to your audience. Video tells more about your product or you as the brand owner than 1000 photographs.
There are several different ways to format a video, and you can post it on several channels. You can also request the influencers you work with to create videos to promote your brand.
They should show the product and, if possible, use it so people can see how it works.
The diamond in your eCommerce marketing strategy
No matter how much you invest in your marketing (whether it's time, money, or human resources), you need to measure the results of your campaigns. Paid Ads, organic traffic, influencers, affiliate marketers, referral links — there are too many traffic sources to keep it all under control. Using specialized marketing analytics software will save the day by taking the performance data from every channel you use for marketing.
At RedTrack, we offer more than just a tracking solution for eCommerce clients:
take all of the marketing channels to one dashboard for analysis
create an affiliate program or manage influencers
perform attribution (whether customer used promo code, followed a link or found you organically)
integrate everything in one click with our Native Shopify App (now in beta!)
and finally, make data-informed decisions for your growth