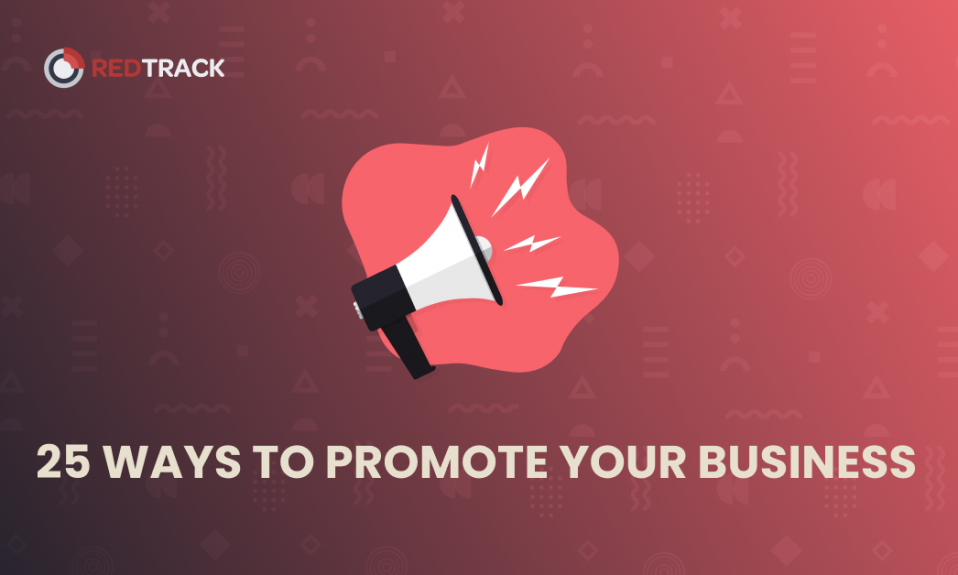 When digital marketing entered the room, we got so many ways to advertise a business. But some of the creative ways for advertisement may hide behind an obvious choice of running Facebook or Google Ads. In a world of startup competition and never-ending marketing hustle, it's important to introduce diversification of ways to promote your business. 
Let's investigate 25 ways we recommend for companies to advertise their businesses, grow ROI and attract new audiences 😎
1. Social Media
Create a strategy utilizing social media resources. If you were told to do it many times before, but still haven't implemented the strategy, here some statistics. 
90% of the marketers

have managed to say that social media increased their business exposure and 75% increased traffic. 

21% of the consumers

are more likely to buy if they can reach out to the business via social media. 

83% of the marketers

ranked social media their #2 contributor to success (right after SEO).
Each of the networks has its own benefits depending on the type of business you run. In the article about finding traffic, we created a table with info about each social network to help you make up your mind about which network to utilize.  
You have to choose social media depending on the service/product you offer and depending on the target audience you set for yourself. It is super important to choose the right channels for your strategy if you want to harvest from your social media accounts. 
2. UGC
UGC stands for User Generated Content. Sounds good, but what does it mean, and how you can apply it to your business marketing strategy? 
First, let's discuss why this method of advertising your business is effective. It is one of the most cost-efficient ways to promote your product or service because you just need to make the first move — then your audience will do the job for you. One of the most vivid platforms right now for UGC is TikTok, but Instagram, Facebook, Twitter, YouTube work perfectly too.
If a business comes up with a "trend", thousands of users can recreate the trend and promote your product without any effort from your side.

Let's look at the Chipotle example: the brand created the #lidflipchallenge (see the example). Which just in the first week resulted in more than 100k contributors recreating the challenge and 100+ million views on TikTok.
#ChipotleLidFlip @chipotle #ad
3. LinkedIn Blogging 
Wondering which social network has the best algorithms for organic growth in 2021? Spoiler: it's definitely not Facebook 😁 Most social networks do not work anymore for organic growth, they prefer paid ads.
But LinkedIn started transforming its ecosystem a few years ago which led it to be the #1 network for organic social media growth for B2B.

Consider checking tips posted by LinkedIn on how to grow a social following for your business. But nobody will tell you more about content creation on LinkedIn than content creator on LinkedIn.
So check out the advice from Dave Gerhardt (CMO at Privy) in one of his recent posts: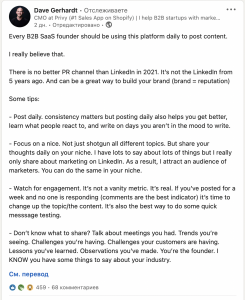 4. Twitter 
Twitter stands along with LinkedIn as social media for professionals (but an unofficial one😁). It is a great place to network, share your precious opinion and find link-minded people. As well as it's a good place for provocative threads that catch the attention of the audience and become viral. 
Twitter works incredibly well for tech. Entrepreneurs, developers, and creators hang out there and hold intelligent conversations, discussing the latest news and arguing (but just a bit). For tech startups, Twitter can become a great way to network. Just find a bunch of entrepreneurs that inspire you, follow them and join the wild threads — share your opinion and help others if you can. 
But Twitter works for traditional marketing too. All you have to do is to bring attention to your tweets and cause massive reposts (or even reshares to other social networks). You can witness the infamous example from Burger King from the 8th of March. 
That's how the company wanted to attract attention to the fact that there is still the prevalence of the male in the restaurant industry. Have no idea how this initiative affected the sales on Burger King's side. But it is a great example of how tweets can become viral and even be featured in most of the big media! 
5. Contests
There is a lot of fuss around contests on the Internet. But if done properly, it might become a great additional way to advertise your business and get customers' attention. 
We would recommend starting with having your product or service as a prize and not other expensive items. Even though it might generate more traffic if you decide to give away MacBook or iPhone, it might attract not the type of audience that will convert later on and become a frequent customer. 
Think about the conditions of the contest you want to choose and try to throw some UGC (you already know the power of the phenomenon) shadow so you wouldn't have to invest a lot in the promotion of the contest and let it promote itself. 
6. Paid Ads
No matter how much you invest in social or content, paid ads will still play a huge role when it comes to boosting your sales. Paid Ads work perfectly to advertise your business when you already invested in your brand awareness (like personal brand development, social media, content marketing, etc.). 
Once the audience already knows about your existence, you can use targeting and remarketing to remind them that they actually have to purchase your product. 
When you run paid advertising, it is a good idea to acquire ad tracking for your marketing strategy. Tools like RedTrack can consolidate the data from all the platforms where you run ads (FB, Google, YouTube, etc.) and give you valuable insights about the performance. 
7. Influencer Marketing 
If 5 years ago only a few companies used this strategy for advertisement, now everyone wants to get a blogger in their marketing army. 
Don't forget that influence starts not only with crazy popular bloggers, but also small niche ones. Even if an influencer has 1000-5000 subs, he/she can deliver a lot of value if your audience matches.

Moreover, it's also about how influencers deliver the information (promotion in this case) to their followers. The audience is getting smarter by the day and they will not be caught with a simple ad on your business. Try finding a blogger who will be able to deliver the value you have in a creative and catchy manner.
8. Develop Personal/Company Brand 
We don't always remember the brand names, but we definitely remember people who stand behind the wheel. If you want to make your brand remarkable, you have to pay attention to the person and identity behind it.
For majorities, it doesn't matter what companies do, if they see such names as Steve Jobs, Elon Musk, Jeff Besos, Ray Dalio, etc. It's true, these are really big names in the industry, but there is still a place to fill your business niche with your name in it.

You might wonder, what does "develop your personal brand" advice really imply? What do I have to do? Good question which does not have a definitive answer as it involves a multitude of activities and only you as the owner can define what strategy suits you. We will discover them one by one in the upcoming ways of promotion.
But if we had to explain personal brand in one sentence, we would say the following.
Let yourself be the brand. 
Your name has to pop out before the actual brand name. To achieve that, you have to form an alliance with social media, traditional media, become a frequent guest of industry-specific live streams and podcasts. You may share your opinions in media, collaborate with other businesses. But your face has to be seen and your voice has to be heard if you want to skyrocket the sales of your company. 
9. Live Streams 
Even though it's a time and resource-consuming type of advertisement, it pays off very well in the trust of your potential customers. It works very simply: people love seeing other people. And when they see you run Live Streams (especially if that happens consistently), they trust you and the product your produce more. 
Tips if you decide to advertise your business with Live Streams: 
Take care of the quality (video, sound, streaming platform, etc). 

Find a good presenter in your company (even better if it's CEO or a person in a similar position)

Find collaborators

Cover trending topics

We use this strategy ourselves at RedTrack and we can definitely notice the increased loyalty of the customers as well as new leads flowing from YouTube and Facebook.


10. Podcasting 
Podcasting is a new normal. I have no idea how the mic sales are doing right now, but pretty sure it's booming! If you have the skill, the expertise, or even some stories to share, it's worth trying podcasting. 
The study shows that U.S. podcast ad revenue grew by 19% in 2020. And I guess that's not the end of the trend of bringing conversations into the podcast format. 
If a YouTube channel or any kind of video format is not for you, consider delivering value with audio. It is a nice way to bond with the audience, show your expertise, collaborate with other creators, and find new customers along the way!

For inspiration, check out Podcasts hosted by Gary Vee and Dave Gerhardt.
11.YouTube Channel 
Youtube is one of the most powerful tools if we talk about combining social media, personal brand, and expertise demonstration. Launching Youtube Channel is a long-term investment, but you have to keep in mind that Youtube is basically a Google #2. 
Ideas on how to advertise your business with Youtube Channel: 
Create video explainers on topics that your business is related to 

Create video reviews 

Invite collaborators — co-create content together 

Include short promos in the videos you produce (be sure not to make it the whole point of the video, because YouTube communities love value over promos)
Ask yourself the following questions before creating a channel: 
What am I (my business) good at? What kind of expertise I (my business) will be able to provide? 

How is my business unique? What defines us as a company? 

Who is a natural presenter in the company (it could be you, but could be one of your employees)? 

What kind of content we will be able to produce on a regular basis within a 6 month period? 
What is very important to note about advertising on YouTube: it won't be an overnight growth. It is a slow growth strategy where you might expect some results in 3-6 months, but in some cases in a year. YouTube cherishes consistency (post within one time period in similar times), trending topics, engagement in the first few days. So make sure to promote your video as much as possible after you upload it (add it to the newsletter, post on social media, forums, etc.)
A great business YouTube channel is born where value and expertise join the passion of a presenter who can put information in a lightweight and simple way. 
For example, we started a new series on our YouTube channel at RedTrack where we plan to reveal technical topics in digital marketing (like tracking, attribution, Facebook CAPI, etc.), follow along to see the result of this initiative!

12. Creating courses 
In the last few years, the trend of education occupied the market. Thousands of online schools, courses, and workshops happening daily. However, you are not late for the party. If you have unique knowledge applicable to the industry of your product or service, creating a course can be a great way to get new leads.
The new audience that you will attract may differ (especially from audiences you get from contest promotions) in a positive way. So this way to advertise your business is highly recommended for complicated businesses (in tech, for example). You will get an opportunity not only to break down the industry concepts but explain peculiarities about your product that might move the lead to purchase your service faster. 
If you do not want to invest in a production of a full course, you may also consider hosting:
Online workshop/webinars 

Host a digital conference

Create a guide
All those methods work like magic to find well-educated leads that will turn to your loyal customers. 
13. SEO
Many businesses still underestimate Search Engine Optimization as advertising tactics. 
SEO helps people find you instead of you trying to chase them. 
SEO is all about letting the search engine play to the advance of your company. What you want to achieve is to have your content on top of every search query connected to the problems and issues your business solves for the customer. 
What do I do to advertise your business with SEO? 
Create a content marketing strategy around the topics where your business holds an expertise 

Collaborate with other blogs/businesses in order for them to cite your content or refer to your company (guest posts, streams, etc.) 

Implement link building (we will talk about this later in a designated point)

Optimize your website and landing pages for search (use correct keywords, check the load speed, etc.)
SEO might not be easy to deal with if you are not a professional, so consider hiring a specialist before saying that this method does not bring you enough leads. A SEO specialist will be able to cast research in order to find all the right keywords, which will help you create a strategy and optimize your business for search engines. 
14. Content marketing 
Content marketing is a big part of SEO, but it deserves a separate place on this list. If to put it in a simple way, content marketing drives customers' attention and sales through the content your company produces. So that may involve social media activity, writing blog posts, filming videos, etc. Any type of content that generates traffic and increases your brand awareness works great for this type of marketing. 
We already had a word about social media and YouTube videos, so here we can elaborate on the Blog.
Starting a blog is a great way to cover topics that your audience finds interesting/acute at the moment and incorporate a little reminder about the service your company offers with a pretty CTA (click to action).
To find your topics for the blog, you might need an SEO specialist again to evaluate the volume of search queries and trendiness of the subject. 
15. Link building 
Linkbuilding is a part of SEO strategy, but it still deserves a separate point. First, let's break down what is link building.
Link building is a process of earning hyperlinks from other websites leading to your website. 
It helps the Search Engine to crawl the web pages and increases the trustworthiness of your website if the system sees that many other resources link you. Therefore, it is one of the most effective ways to increase your search ranking.

Not only hyperlinks on other valuable resources give you a direct advertisement but help you with SEO. However, the process of earning links can be a real pain. It may involve hours of e-mails to different businesses and loss of hope. Don't give up just yet: try to test different e-mail templates, always make sure to offer 
16. Newsletter 
Email-newsletter is a great way to communicate with your potential customers and remind them about cool features your business offers. 
Don't use a newsletter just to directly promote your business on a weekly basis (most likely it will cause a huge amount of unsubscribes), but use it as a way to deliver news and updates, communicate what's happening to your company and how it evolves. 
Kinds of the newsletters you can run to advertise your business: 
1. Product news and updates newsletter
Customers may not want to purchase from a promo, but they might want to buy because of a specific feature you developed. Communicate the value and the progress your company makes.
2. Blog newsletter
If your company is running a blog, most of the customers will miss the content you produce. Don't be scared to share with them once a month the articles you wrote in a quick digest. 
3. Tips & Insight Newsletter
As we probably already discovered, people love the value you deliver. Consider hosting a newsletter with tips, tricks, and insights from your industry/area of expertise. Your potential customer will get to know your company better as a provider of expertise and might wanna purchase your product in the future. 
17. Invest in media coverage 
Media coverage can be divided into paid media and earned media (as you can guess for one you pay and the other you earn). If everything is pretty clear with paid articles, there are a lot of questions about the earned media. Most likely this is the one you are scared about. How to get to the big media? How to be interesting to be featured? 
Media coverage is one of the best ways to increase your business publicity and brand awareness, but you probably think that it works only if you get featured in resources like Forbes. 
Eventually, you can start slow. Start by writing articled to media that is easier to access, but where your target audience might hang out.
Find TOP-30 (or choose your number) media in your niche/industry 

Review their rules and requirements for writing 

Pitch the idea of the article to the responsible employee

Send the draft (verify it according to style guidelines and other requirements for the articles) 
Well, if you still want to be featured in media like Forbes, CNN, etc. there is another lifehack. Check out writers on Fiverr (or other freelance marketplaces), for a fee they can help you present the article to the platform you desire.

18. Affiliate marketing
Affiliate marketing (AM) is a well-known way of promotion. AM is about giving others a chance to sell your product or offer for a small commission. Why is it good for your business?
Well, technically if there is no sale, you don't have to pay anything. In comparison to other ways of marketing and advertising, this is the most cost-efficient one. 
How can you start working with affiliate marketers? 
The easiest way to start is by placing your offer on affiliate networks/marketplaces (like Digistore24 or Clickbank) where businesses meet marketers. You can easily place your offer on the platform and forget about the hassle when affiliate marketers are trying to advertise your business for you.
However, it is important to track results and analyze the performance of affiliate marketers if you implement this strategy. You will need the help of an ad tracking tool that will track CR (conversion rates) and verify the numbers with marketers for any discrepancies. 
At RedTrack, we have more than 80 integrations with ad networks that will help you set up tracking in no time and see the results of affiliate marketers who joined the advertising of your offer. 
19. Collaborations
Collaborations are a great way to advertise your business by joining forces with other creators, businesses who can have the share of the audience that you missed attracting earlier. 
Types of collaborations for businesses advertisement: 
Collaboration with Influencers


You can not only advertise your product directly through bloggers, but try to create certain products together or develop features that you did not think about before. The influence that bloggers hold may force people to purchase products or services if they see the name of their favorite bloggers mentioned there.

Collaboration with other Businesses
If you have in mind a great company with similar values as yours, working in a similar field, but creating a different product — why not exchanging the customers? For example, both of your companies create SaaS marketing tools, but one works with automation and another with e-mail marketing. You are not direct competitors, therefore, nothing bad will happen if you create a custom integration, spice it up with few live streams and exclusive deals. 
20. Affiliate program 
Starting an affiliate program is almost the same as affiliate marketing but different. Let's learn how 🙂 
If you want to use simple affiliate marketing, you can just use any network/platform that posts your offer and gets affiliates on board to advertise it. But affiliate program works by the rules that you predefine. 
The classic examples of affiliate programs are Amazon, Shopify, or Fiverr. Therefore, affiliate programs are a great way of advertisement for eCom. Eventually, we already did a good job explaining all the basic (and advanced lifehacks) of how to start an affiliate program for your eCom business, so give it a read! 
At RedTrack we also offer the ability to create your own white-label affiliate program and set your own rules 😎 Connect to our specialists to learn how you can escalate sales with affiliate programs. 
21. Build a community
Building a community is a precious piece of advice that helped many businesses grow. It is a known way to get customers' trust and attention, a clear way of communication with your audience without any interference.
You basically get instant access to their feedback, issues they have and have a way to deliver the values and achievements of your business. 
Where can you build a community to advertise your business: 
Facebook Groups (by far the most popular tactics)

LinkedIn Groups (or account as well) — works perfectly for B2B sales

Telegram channels 

Clubhouse (quite new, but we all know what Clubhouse managed to do as a community builder)

YouTube channel (even though we have it as a separate point, YouTube is a great platform for your community) 
22. Forums 
If you thought that forums are dead, you are wrong. Forums quite happily exist in 2021, just they had to transform. To jump-start your promotions via forums you have to conduct research first to find out what are platforms that people use in your niche.
When you know what are the websites, you are ready to start… promoting? No! The rule of the forum has not changed from the times they were invented. A blind promo will not work. A forum is a place for contribution, help, and advice — you can either provide it or ask relevant questions yourself.

If you want to implement forums in your marketing strategy, you have to prepare to spend your quality time on those websites helping users and delivering value. Only gently adding advertisement of your company. However, it is a great way to find the audience concentrated on the subject you need.
23.Reddit
Another scary marketing technique. We know that businesses are terrified of getting on the Reddit grounds, but you should trust us if we tell it's worth it. Actually, we already created a complete guide on how to utilize content marketing on Reddit as well as Reddit Ads.
But here are a few highlights you have to keep in mind: 
Reddit is #1 forum ecosystem for 2021 where you can find engaged audiences in particular subreddits (Reddit micro-forums related to a specific topic)

If you earned the trust of the community, you are ready to throw some pretty promotions to the subreddits

Reddit Paid Ads allow you to show your message to the same engaged communities, you can target it to the subreddit of your choice, therefore you can choose which audience will most likely interact with your company


24. Invest time in reviews 
Reviews can work to increase buyers' intent. Especially if your product is considered to be of higher quality, people prefer to investigate what others think before investing big amounts of money. And we are not talking about fake reviews. It's simply about reminding satisfied customers that they can leave their feedback on platforms you are interested in. Most of the customers will be happy to share their opinion about your product if you remind them. 
Take care of your reviews on the following platforms: 
G2

Trustpilot

Capterra 

Industry-related review platforms (like Yelp for restaurant reviews)


25. Networking
As old as marketing itself is networking. 2020 and the digital transformations, in general, made a few corrections on the way of how we can network. If earlier we had to make it in person at conferences, events, and dinners, now we can just open our laptop and find everything we need just one click away. 
What is great now, that the same old types of networking (e.g. conferences) are moved to the digital. Participating in digital events not only introduces you to the new customers but also to fellow businesses with who you can co-create and advance what you have already. It is a great base to establish partnerships and collaborations with businesses that can benefit your development. 
Bonus point: combine & analyze
It is very important not to keep all eggs in one basket. So if you choose only to invest in social, you will miss out on a lot of opportunities. Modern marketing is based on the concept of diversification. 
Choose anywhere from 5 to 10 ways to advertise your business and analyze results. 
Marketing analytics is a crazy important step in your strategy because you want to cut off all methods that do now work for your business as fast as possible. Only reliable data gives you an opportunity to connect all the dots and advertise your business properly 😏 A tool that can help you deliver the data for analysis is tracking software. Our team has already prepared a video on how to choose a perfect tracking software to achieve your revenue milestones, so check it out!


At RedTrack, we believe that data from all of your digital marketing channels have to be brought into one place — a single dashboard as a single source of truth. With our tool, you can easily track paid ads, control the results of your affiliates, see which channel generates the most traffic & attribute conversions to a particular channel. We have many more amazing features, so consider using 14-day trial to test them all.