Let's go beyond Google and Facebook Ads
Who are we without traffic? No matter how good your offer or product is — you do need to bring attention to your product via traffic sources. Sometimes it may seem that the only place we can go is Facebook Ads and Google Ads. But in this article, we would love to go beyond this obvious choice and dig into some alternative traffic treasures. As well, investigate what is diversification of traffic sources.
What is a traffic source?
Sometimes this term can be confusing, let's break it down a little.
Traffic source is the place that drives traffic to your website/offer/product.
Your traffic sources can be anything: from a posted tweet to obsolete "word of mouth". And if your strategy is about making a bet on a single source or a limited amount of them, most likely a huge amount of traffic is skipping your net.
Diversify traffic sources
So before we reveal common ways to find your perfect sources, we have to give you a heads up. Diversify. Diversification of your traffic sources works like mixing a dough. You take all the best ingredients and you knead it until all the ingredients are evenly distributed. A perfect pizza can come up only by putting all your love and attention on each step evenly. Same with skyrocketed sales: distribute your attention on various traffic sources, knead it thoroughly,  track the performance, optimize if needed and get a delicious result!
Where to find traffic?
1. Social Media
The use of social media is the hugest trend. We all know it, but so few people know how to execute it. We decided to compound a table that will help you navigate through different social networks and niches within them.
| | | | |
| --- | --- | --- | --- |
| Social Network | Monthly active users | Niches to look at | Tips to boost your performance |
| Instagram | 1 billion | all | Create visually-aesthetic content, follow the trend and community over your product/offer. Focus on influence marketing by attracting users from your niche's bloggers. |
| TikTok | 1 billion | arts, crafts, cooking, fitness, fashion, travel, education  | Use relevant hashtags, create content related to a specific niche so it would be directed to users, who are interested in this type of content Try to engage your audience, make them create content for you (challenges, trends, etc.) |
| Facebook | 2.8 billion | all | Try to create your own community with trust. As well native advertisement via Facebook Groups where TA of your niche goes. |
| LinkedIn | 260 million | tech, professional, e-com, education, marketing, b2b | Since it's a professional network, try to provide value to your followers. Create education and useful content around your product/offer. |
| Twitter | 330 million | tech, professional, b2b, b2c, education, marketing | Try to follow what people from your industry do and network with them by sharing/creating ideas/concepts. |
| Pinterest | 400 million | beauty, travel, arts, crafts, e-com, cooking, design, health | If the thing that you sell can be visually expressed, try to put it on Pinterest and become a part of users' vision boards. |
| Telegram | 500 million | travel, marketing, education, tech | A great tool to build a community around your product and start a channel. Also, don't forget about the use of chat-bots which can help automate sales. |
| Tinder | 8 million | fitness, beauty, travel, e-com | Try to put ads to this network that are relevant to single people or those who seek 🙂 |
2. Youtube Channel
Youtube is the second largest search engine after Google. So it does deserve a solid point of its own. People ask questions and expect to find video answers on YT, that gives you a fair chance to enter the race of getting at the top of Youtube's keywords.
You can come to Youtube with any niche and a type of product or offer because it's simply such a large network that has a place for any type of audience. Whether you sell car wheels or lip liners, you will surely find your sweet spot.
Try to go away from direct advertising on YT and focus on delivering value with a very native ad of your service somewhere closer to the end. YouTube people are very picky on this.
3. Ad Networks
Another fruitful way to find new traffic sources to your offer/product is using services of Ad Networks. There are different networks specialized in various types of advertisements: native ads, push ads, pop-ups, pop-unders, etc. 
We are going to quickly mention few platforms that could help you reach new formats in advertisement:
Ta

b

oola –

native ads

MGID

–  

native ads

Adcash

– push, native, interstitial, pop, banner, etc.

Propellers Ads

–

push ads, on-click, native, In-page push, etc.

RevContent –

content marketing and native advertisement
But again, to properly utilize this traffic sources you may need a help from a proven ad tracker. In order to keep track of your campaigns across all networks and to optimize the performance, the solution like RedTrack could be a lifesaver. 
At RedTrack we have more than 80 integrations with Ad Networks and all of them are saved as templates. So if you wish to start tracking your ad campaigns with any of those networks, it would take you no time to install the whole tracking solution. 👌
4. SEO (Search Engine Optimization)
It may seem like a long-run with no immediate benefits. Of course, sometimes it's easier to pay for your Google Ads and get some instant results. But if you think that you don't want to lose your time on keyword optimization, remember the pizza rule! It's a mix of everything that makes your end product great and memorable.
Few of the tips to follow for your SEO:
Make an effort with content marketing: by creating content relevant to your Target Audience you may stumble upon great leads. Create content that drives value and is correlating with current hot topics to discuss. (For example, at the times of pandemics many brands started forming their advertising around quarantine).

Create short and actually searchable titles. Try to think how would you google yourself this issue before making a really bright, not impossible to find the article!

Drop your keywords in the first 100 words!

Improve your website's backlinks. Link other resources in your articles and work on coverage on other websites linking yours.

Try to make it to the Google Snippet. If you provide the best and the most accurate answer to the issue, Google will prioritize your website by placing it above all. Check an example below ⬇️

5. E-mail Marketing
Though many believe it's an annoying way of marketing, we want to fight this misconception. Remember, that even not every pizza is delicious! Of course, some e-mail newsletters are also boring and outdated. There is still a lot of value if you do it right 😎
Set up lead magnets for your Target Audience and gather their e-mails. The better your lead magnet is, the more accurate audience you will attract.

Automate e-mail funnels for your leads, customers, and "abandoned carts" 😪).

Test different sequences with different audiences to identify which carries the most fruits.

Provide value, don't just advertise your product/offer in each e-mail or you will be unsubscribed from.
6. Media coverage
Paid Media
First, we have to separate 2 types of media ads: paid and earned. Let's first discover what is paid media advertising. 
You can buy an ad placement on media platforms (like New York Times, Forbes, etc.). The usual pricing model is a flat rate, where you pay for a certain banner for a certain amount of time to be displayed on the platform. But this model gets less used day by day since it gives little control for advertisers over the performance of the campaign.
That's why CPA (cost per action) model appeared on the market. That means that you pay to the media platform for certain targeted actions of users on their website. It can be sign-ups, add to carts, purchases or any other type of action. But in order to get full control over a CPA model you need to use an ad tracker. Ad tracking is actually useful not only for media advertising, but for gathering data from all your traffic sources in one place in order to praise those who bring the most results and eliminate budget suckers. 🤟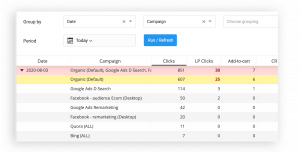 Earned Media
Earned media coverage is the type where you have to work really hard. The benefit: it can be highly profitable if done right.
Creating content in collaboration with well-known media platforms is a way for success, surely. Being featured on those platforms increases trust in your brand or product, as well as generally raises your brand awareness. Creating valuable content that would be accepted by the media is truly hard work. But hard work pays off!
Also, consider posting on such platforms as Medium (or the same type of media relevant to your niche). Anyone can post there, but if an article is interesting, it can get a lot of views.
Search for a topic for your articles that is discussed at the moment. Follow the market trends or just the latest news to always know which topic will get more coverage (same as with YouTube). 
7. Influence marketing
We all have to live with a fact that it's been a long time when influence marketing left a niche for beauty-bloggers. Every single niche is now stuffed with bloggers whose audience you may use for your benefit.
Let's compare influence marketing with the modern term of "word of mouth". Influencers actually enable your product's/offer's visibility and people start talking about it. There are two significant reasons why it's good for you.
Influencers gather Target Audience with shared values and interests around themselves. So if you manage to find an influencer with the same TA as yours, it's a big win!

This TA actually trusts the blogger. If the influencer has a good record with his/her recommendations, the chance to skyrocket your sales is almost inevitable 😎
And a few tips to boost your influence marketing:
Check the approach of advertising/recommending before ordering a campaign with the influencer. Make sure the way they present the product matches your expectations. It's not only about the number of followers a blogger has, it is also about the quality of advertising.

Make an influencer fall in love with your product/offer. People value sincere feedback and the audience will feel in no time the deceitful recommendation. Actually, bloggers care about their reputation a lot, so most likely they will refuse your offer if you don't give them a chance to properly execute the thing that you sell.

Trust their creativity. And release. Sometimes we as product owners/advertisers think we always know better. However, the blogger does know his/her audience much better than you do. These people do blogging for a living because they can actually gather people around themselves and inspire trust. So let them choose how your campaign should look like for their audience.
8. Partner & Affiliate marketing
Sometimes you may feel that you reached the top at your "traffic game". Eventually, there might be another brand that feels the same way! Partner marketing is all about credible alias who can help each other grow their audiences. If your businesses are functioning in a similar direction, but yet have slightly different audiences — you have a chance to catch the attention of both. It's all about interesting collaboration and conquering new targets.
A subdomain in partner marketing would be a partnership with affiliate networks. An affiliate network allows you to give out your offer to a wide range of affiliate marketers who basically will do all the work of promoting your product for you. You do have to share a percentage of sales (or other targeted actions) with both the network and affiliate marketers, but the good thing that you do not use any other resources of your company for advertisement purposes.
Don't forget bloggers/influencers can become your affiliate marketer too. If you start advertising with influencers, include not only video/photo ads, but also give bloggers special links or promo codes with certain conditions. Then they will be interested in driving more sales to your offer as it is a financial benefit to them as well.
If you wish to skip the step of sharing the percentage of a sale with the affiliate network, you might be interested in the next source from our list 😉
9. Referral program
If you already jumped into partner & affiliate marketing, it would be a good idea to create a Referral Program! Do it yourself, they say!
By creating your White-label referral program you are able to automate your relationship with all affiliates, partners, and bloggers. Simple: you set your condition, you give each user a special link to track their sales, you get all the results of ad campaigns stored in one place 😎
There is literally an unlimited amount of partners you can attract when the offer is available publicly. But how to find a perfect affiliate marketer?
A good idea would be to use a platform that matches your type of business with a perfect affiliate. Something like tinder for running business and ads, let's say. For that purpose, you may like the tool from our partners at Publisher Discovery. This platform allows you to find the best marketers to advertise your offer or product within a certain vertical. This feature will enable you to scale your referral program limitless 🚀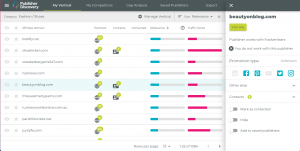 10. Giphy
We wanted to throw some crazy ideas for you too! Sometimes absurd marketing decisions can bring amazing results too.
Gifs and memes are so trendy at the moment. If you create a gif with your logo that users instantaneously will start sharing across the internet — it is a quick win. The question is, is it relevant to your target audience? If you target a younger TA, we would definitely recommend you to try this sort of advertising. Once you do the job (create viral pic), the rest is done by the users. In no time your logo appears everywhere 😎
To start advertising through Giphy you need to:
Create a brand channel on Giphy

Research the topics you would like to create gifs about (maybe spy on your competitors 😎)

Research the keywords in your niche that you will be working with. A good idea would be to check the top gifs under each keyword, as well as the overall amount of gifs under the keyword.
If you think that Giphy is not for your business, these are the quick examples of how different companies utilize gifs for their marketing purposes: Starbucks, IKEA, or even trading company eToro.
11. Country-related resources
If you are looking for market expansion, we would recommend looking into country-specific media. It can be anything from social networks, messengers, or search engines.
For example, if you are looking into the Chinese market, consider looking at Baidu, WeChat, etc.
If you are looking into the Russian-speaking market, look into Yandex, VK, etc.
It is a hard thing to transit into a different language/culture zone, but it gives you access to the audience you could never attract with all the traffic sources listed above. So if you have outdone yourself on all the previous stages, time to start conquering new markets 🚀
Conclusion
Concluding this amazing list of traffic sources, we have to remind you again of diversification. But to combine your traffic sources in the right way you do need to use an ad tracker. Ad tracking solutions will allow you to distinguish which sources work for you, the use of which sources have to be modified, and which sources have to be forgotten. You can always book a demo with RedTrack team to find out how our tracking solution will benefit your business and skyrocket your marketing strategy.