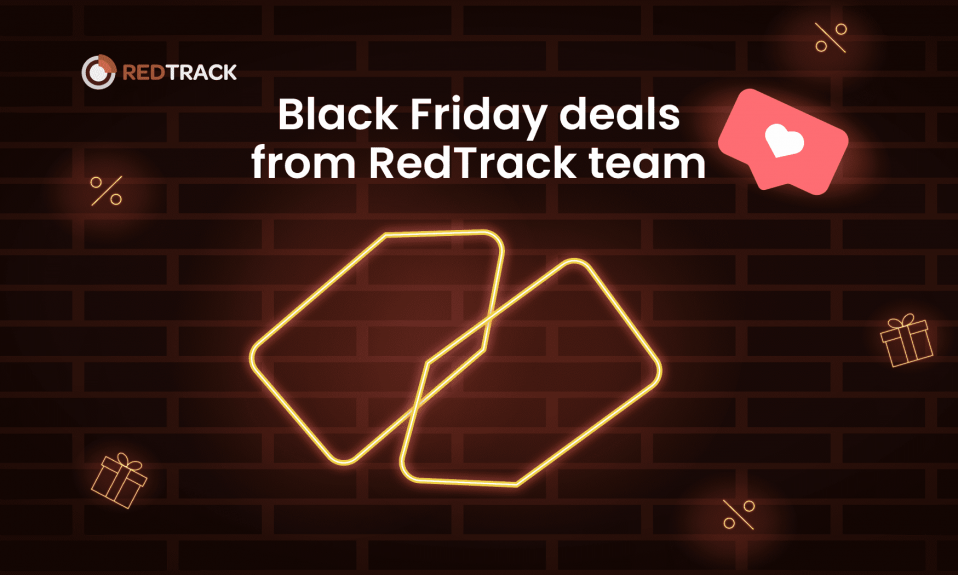 Black Friday / Cyber Monday season is probably one of the most stressful times for marketers. So it's important for us also to get benefits during these hectic times.
So our team decided to bring together all the discounts from our partners & friends to share the good things with you.
Without further ado, let's learn on what solutions you can save during BFCM!
RedTrack's Black Friday Deal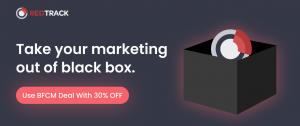 Well, first of all, let's talk about the deal our marketing team came up with for this season. You have a chance to save up to 30% OFF. 
What is RedTrack?
RedTrack is an all-in-one marketing analytics solution that covers:
ad tracking
conversion attribution
reporting
affiliate / referrals / influencers management
During Black Friday you can save 25% OFF 6 months subscriptions and 30% OFF 12 months subscriptions.
Valid until 30th of November.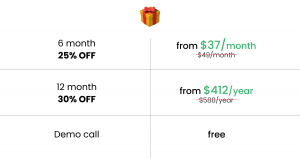 All the details can be found on
RedTrack's Black Friday page.
Infinity Black Friday Deal

What is Infinity?
Infinity is a fully flexible work management platform where you can organize all of your projects and tasks in one place, customize all your work to your liking, and easily collaborate with your team.
Ultimate flexibility.

Shape your work any way you see fit! Create your own structure, pick one of the six available views, and effortlessly adapt Infinity to your business needs.

One place for all of your data.

You get to keep all of your documents, images, metrics, tasks, contacts, notes, leads, ideas, and a lot more in a single place, easily accessible whenever you want.

Versatile customization options.

From folder colors to attributes in items and entire views, everything is fully customizable in Infinity. You get to decide what you want your data to look like.
Thanks to its flexibility, anyone can use Infinity: marketing agencies, project managers, entrepreneurs, development teams, accountants, educators, freelancers, real estate companies, etc.

Infinity Black Friday 2021 Deal: 20% off on all purchased plans and upgrades

Discount code: 20%OFF

Valid until: December 1st, 2021
All the details can be found on Infinity Black Friday page.
CallHippo Black Friday Deal

What is CallHippo? 
CallHippo is a VoIP service provider and it is trusted by 5000+ brands across the globe.
It lets you purchase virtual phone numbers of 50+ countries in just 4 simple steps and it takes only 3 minutes to get started. Now making international calls are very affordable.

You can get 25% OFF on the Platinum plan

Discount is valid: 26th Nov to 29th Nov 2021

Coupon: BFDEAL25
All details cam be found on CallHippo Black Friday page. 
Social Pilot Black Friday Deal

What is Social Pilot?
SocialPilot is the one-stop solution for all your social media marketing endeavors. Schedule posts at the best times, get white-label reports, and track multiple social media profiles from a single dashboard. Enjoy these and much more with the leading scheduler at a really affordable price!
You can get flat 25% OFF on all of its annual plans.

Coupon code: Deal25Off

Deal is valid through 26th of November
All the details can be found on Social Pilot Black Friday page. 
MyLead Black Friday Deal

What is MyLead?
MyLead is an affiliate network, where you can earn without leaving home. It is a comprehensive platform offering a variety of partner programs. You do not have to invest money or have any special skills.
MyLead celebrates Black Friday all week long! From November 22 to 29, you have the opportunity to earn more than ever before. During the promo, MyLead will provide daily promo codes to increase our affiliate program rates by 10%. 
Daily promo codes to increase affiliate program rates by 10%.
Valid from 22 to 29th of November. 
Follow the link below to earn benefits.
Go to MyLead and keep up to date with events so you don't miss out on opportunities.
IAmAffiliate Black Friday Deal

What is IAmAffiliate?
IAmAffiliate is an advanced affiliate marketing forum where you can learn how to make money with PPC Ads and CPA Marketing!
You can get full access to the member's area for one full year, and save $250!

This special discount is only and exclusive for Black Friday on November 26th.

Coupon: BF2021-SAVE250DOLLARS
More details can be found here.
Evadav Black Friday deal

What is Evadav?
EvaDav is an advertising network. Traffic is traded under CPC and CPM pricing models and is available over the following ad formats: native ads, in-page traffic, push notifications, and popunder.
As Black Friday is always special, EvaDav is launching a profit offer for all new and current Evadav advertisers.
Rules are quite simple:
run new ad campaigns with

Premium traffic

from 23 to 29th of November

top up your new account balance

get bonuses with a promo code while topping up
Evadav bonus system:

Special promocode for RedTrack: redtrackbf

$500 – get $50 bonus with promo code BF500

$1000 – get $100 bonus with promo code BF1000

$1500 – get $150 bonus with promo code BF1500

$2000 – get $200 bonus with promo code BF2000