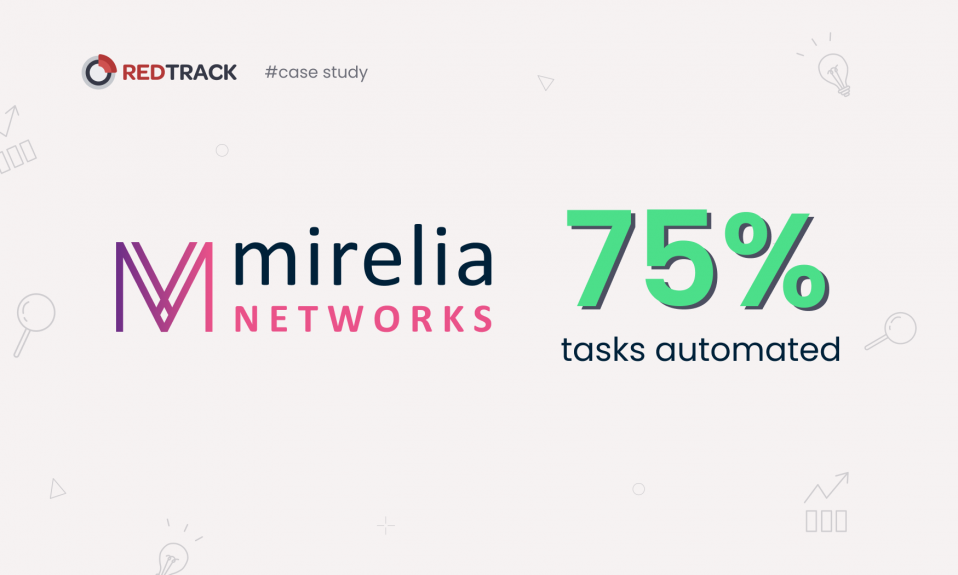 Mirelia Networks is a direct advertiser and a network providing High Quality Traffic from Tier1 GEOs.
The company offers a range of advertising tools and works with popular ad formats (native, banner, native cross-page). 
The Mirelia Networks team is committed to changing the affiliate marketing industry by taking a modern approach. It is on the lookout for new and effective sources of traffic for its in-house dating offerings, including Casual and Mainstream. 
For 9 years of work in the dating field, the company has built successful relationships with leading advertisers and affiliates from different countries: USA, Canada, Australia, New Zealand, UK. Mirelia Networks' portfolio includes the best dating offers in Tier1 GEOs.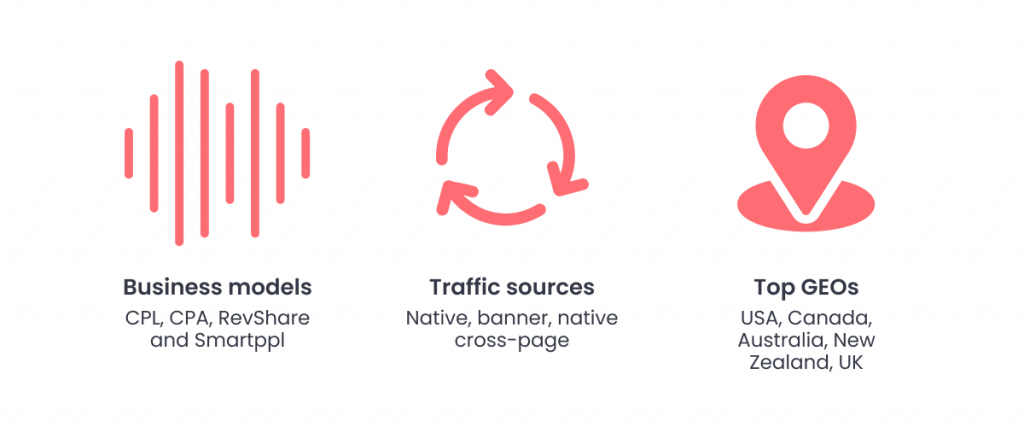 Why Mirelia Networks? 
9 Years in the vertical

High-performing exclusive offers in Tier 1 GEO

Direct advertiser

Over 70% of the partners connected over API

Postback tracking

Expert support

High & exclusive payouts

Flexible business models
Why did Mirelia Networks need a solution from RedTrack?
Mirelia Networks needed an effective & precise solution to manage the affiliate program: help simplify the relationship with affiliates, provide them with real-time reporting, manage interaction and allow Mirelia to grow without extra hussle.
RedTrack's Partnership Portal helps achieve all of that with accurate real-time server-side tracking of the affiliates' performance, providing both parties access to performance stats.
This way affiliates can easily control their advertising activities, improve results, earn bigger revenues and scale the revenue of the company.
While the owner of the affiliate program can easily manage the work of all the affiliate partners and find more ways to scale the revenue, like Mirelia Networks did.
Mirelia Networks chose RedTrack solution to track postback in the affiliate program and automated affiliates entry:
Create a unique entry for affiliates.

Automate routine tasks for publishers.

Give publishers easy access to all data.

Simplify management of referrals and affiliates.
The main goal was to maximize the benefits for regular and new partners from cooperation with the innovative affiliate platform. At the same time, the company was interested in maintaining the flexibility and transparency of the relationship. 
How RedTrack's Partnership Portal helps with affiliate program management? 
Partnership Portal by RedTrack helped achieve the following business objectives for Mirelia Networks:
Seamless affiliate program management
With the Partnership Portal by RedTrack, Mirealia Networks simplified the process of interaction with affiliates. Affiliates are able to sign up and access all the needed data about the offers for promotion.
In the same place affiliate can analyze their performance with Reports. And Mirelia networks are able to control the valuable KPIs of the performance of each partner.
Reporting for both parties
With Partnership Portal you are able to access reports to analyze every single campaign for every single offer. As an affiliate, you will be able to identify advertising combinations bringing the most success.
While as an affiliate program owner, you can analyze the effectiveness of each affiliate partner, control the traffic they are bringing to your website, easily control payouts and scale revenue of your company.
Automation of the workflow for affiliates' entry 
Now managers at Mirelia Networks do not need to perform manual tasks when registering new users as affiliates for their affiliate program. With Partnership Portal by RedTrack the process is fully automated.
Partnership Portal is also an awesome way to implement an extra layer of analytics to your affiliate program.

How has working with RedTrack affected Mirelia Networks?
By using RedTrack's Partnership Portal, Mirelia Networks was able to: 
Provide publishers with easy and secure access to all data (stats, campaigns info, offers details);
Ensure that all newly registered publishers don't require manual work from managers;
Automate 75% of the routine tasks associated with affiliate program management
Automate 75% of the workflow on affiliate side: affiliates can sign up, login, receive all the details about offers & conditions of the referral program independently without back & forth communication with Mirealia Networks.
In addition to that, RedTrack's team worked to accommodate any custom requests, connect partners over API and serve with excellent customer support.
All of this has helped Mirelia Networks increase transparency and guarantee benefits for its partners over the long term. 
Afterwords
If you are looking for a network with exclusive offer and amazing payouts — be sure to check out Mirelia Networks. Or use your chance to advertise Mirelia Networks and earn revenue!
If you wanna scale this Black Friday campaigns like never before, don't forget to check out Black Friday guide. ⬇️