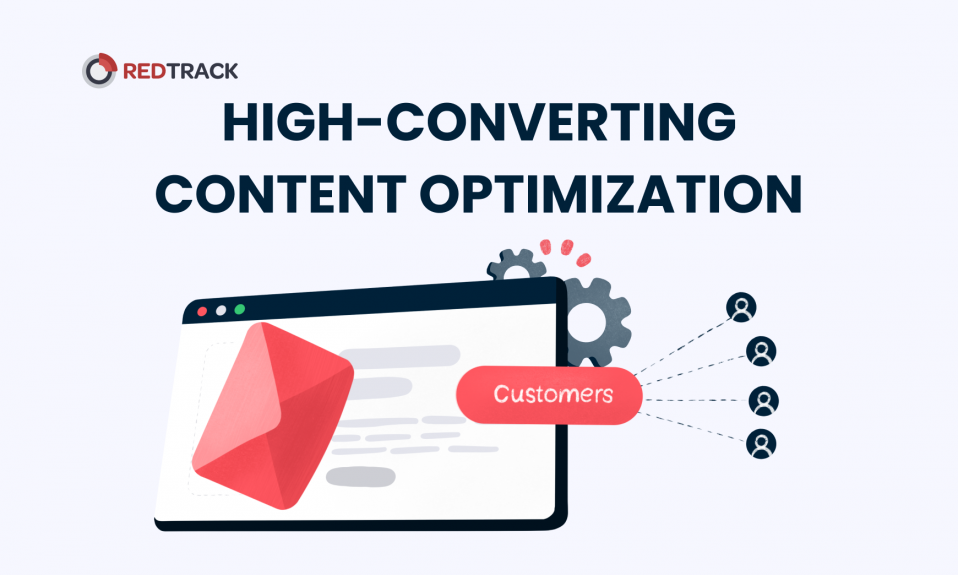 Content marketing works like a charm if you do it right. Specialists can achieve pretty good results when it comes to conversion rates. To get the best results, you always need to look for opportunities to improve your strategies and the content you're promoting. But how do you optimize your content for better results? 
A healthy balance of marketing and quality content is the key to success. And here, we'll focus on how to make your content worth thousands of conversions by learning optimization tactics and strategies in 2023. 
What is Content Optimization?
Content optimization is the process of making a piece:
Visible for search engines

Able to drive traffic

Interesting and engaging, making visitors stay longer 

Encouraging enough for leads to convert
If you don't create your content with user intent in mind and fail to optimize your articles, infographics, and other types of content for it, chances are low that your target audience will be able to find it. You have to make your content visible on the SERPs so that the people who are looking for it can find it. While some marketers focus more on advertising, stats say that 86% of people ignore the paid ads and scroll right to the organic search results. 
From there, every step of the ladder matters. Over 25% of people click on the first result. The same source says that if you're the first, CTR is x10 higher than if you're the 10th on the list.
When talking about optimization for conversion, it's more about grabbing the reader's attention and engaging them enough for them to go to the next level (buying from you, signing up for a newsletter, etc.)
For the best result, you should optimize for multiple goals, including search engine visibility, engagement, conversion, etc.
So, why is content important here? 56% of marketers who use blogging as a promotion channel say it's effective, with 10% of them saying it's responsible for the bigger ROI (return on investment).
How High-Converting Content Works
So, how to convert with content? How does it work?
Your content can build a funnel for visitors to follow, which will lead them to product pages and prompt them to buy from you. This will only happen if you use links wisely throughout your content, write persuasively, use the right CTAs, etc.
For most websites, the main goal is to generate leads and convert them into buyers. You educate readers and provide them with useful information about your niche, products, and services. All of those actions should eventually lead to the purchase, subscription, or any other target action for your business. 
You should use digital marketing strategies to catch your target audience's attention and optimize content with:
Wise keyword use

Catchy titles

Unique writing style

Improved user experience, etc.
Convert with Content: How to Optimize to Achieve Results
So, what should you do to achieve high conversions with your content? We have several professional recommendations that will help you understand the specifics of the process.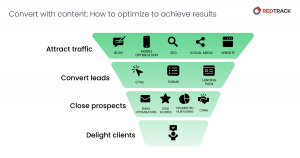 1. Find your target audience
The first and the most important step in creating amazing and high-converting content is find your niche and learning who your target audience (TA) is. You need to define your audience, understand where you can find them, understand their pains and motives.
The more information you can find about the behaviour of your TA — the better. Before you know who you are writing for, you can not optimize your content. You need to understand the pain that drives your TA to search for your content. 
How can you possibly find all of this data on your target audience?
Find platforms, communities, and other spaces where your target audience is located and watch their conversations, hardships, etc. A great idea would be to find Facebook groups or subreddits. This way you will see your TA in their "natural habitat".
Host interviews with your TA. The easiest way to understand someone is to talk to them. Ask one of your clients or leads to answer a few questions for you and give them a small reward or bonus for time spent.
Check what your competitors are doing, especially those who are more successful than you are. Most likely those people already explored your TA and you can use their tactics. But don't forget that bigger companies are usually less willing to talk to real people. So if you've done the first two steps, you might improve your strategy by combining experience from customers and the strategy of your competitors.
Check feedback on existing content and across all of your platforms (e.g. support team, sales team). Maybe your TA has already pointed out a few things that you can fix, but the marketing department has been blind to the issue!
All in all, I believe, that many companies are desperately trying to "squeeze more juice" from their content, but it just doesn't work.
Content doesn't convert unless it solves the problem. To solve the problem you gotta know the problem. And gotta know who exactly has this problem 😏
2. Perform keyword research
Once the TA is found and the main pains and problems explored, time to find instruments that can help reach out to our audience. And those instruments are keywords. Let's look at it as those keywords are connecting our content to the right audience. And even if you have great content, but you are using wrong words (or keywords)— you will not reach the audience.
Keyword research will help you investigate the exact wording for your TA.
For example, to create a single blog post, you need: 
A couple of general relevant search terms to broadly outline the topic

Long-tail KWs for blog post titles and headings

Questions related to the focus phrases to use as subtopics within the article
The latter will help you estimate how relevant the initial keyword you choose for the article is. 
What you should look for when choosing keywords:
Have enough traffic potential (search volume) without being too competitive (difficulty) 

Be relevant and interesting for your TA so that people don't leave your website, find important answers, and possibly convert.
To find such keywords for your website, you can use a digital tool like SE Ranking. This keyword suggestion tool will provide you with keyword ideas, give you a list of broad and long-tail terms, show you the search volume and difficulty of each key phrase, as well as inform you who is showing up on the SERPs for those keywords.
And our last keyword-related recommendation is to use long-tails.
The conductor states that long-tail keywords have an x2.5 higher conversion rate. If someone finds your website using such a KW, it means they have a clear intention to take the focus action because they're interested in the topic.
3. Write in a catchy style and work on your copy
People spend 37 seconds on average reading a blog post. The same source states that 43% of people simply skim through content instead of reading it attentively from the very beginning.
What does this mean?
You have less than a minute to catch the attention of the reader. The most effort should be put into the beginning of the article. That's why, the whole piece should be engaging and interesting (anything but boring) and:
The headline has to spike interest and curiosity

, but not with clickbait. The latter catches attention but is usually followed with disappointment and a bad experience for the reader. Only use such an approach if you actually have groundbreaking news.

The intro should be brief and intriguing.

Share some statistics, leave a cliffhanger, explain what value your article provides. If applicable, some humor won't hurt. It may be the first time a potential customer visits your website. Make sure they have a good time.

Use engaging visuals.

A video, graphic, or screenshot will help. Studies confirmed that 65% of the population are visual learners, which means we perceive visual information better. Using visuals also saves time since you see the key information right there on the infographic, for instance, and don't have to read the full text.
Other tips are to add real cases and improve the readability of your content. The text is still very important, so don't skimp on its quality even if you're using great visuals.
For the highest conversion, put all the important info and an encouraging CTA in the first half of the content.
Also, let's not forget that a slight nudge to users that you're here with great content is never redundant. Try to send push notifications to readers with a catchy thesis that will cause curiosity and make them visit your new post and appreciate the effort (and maybe convert into a buyer).
4. Show your expertise and credibility
58% of consumers will only trust a brand after they see proof. 
53% of consumers say that trusting the company is even more important than price to them when it comes to making a buying decision.
There are more stats like this, and they all mean one thing – you need to build trust, authority and prove your expertise. There are several ways to do this:
Share real cases.


Ask your key customers to share their experiences working with your business. Winning cases are the best, but it's also important to share those that may not have started out perfectly. Show that your company has a personality and strives to become better in every way possible.

Share educational content.


Don't forget to educate your readers on using your products or services. Moreover, you can create informative content on various topics related to your business niche. Then, you can link to key products and services there, and test different CTAs, improving conversion on those pages dramatically. Additionally, it will show your expertise within your field.

Involve influencers.


Collaborate with influencers to build social proof and authority. Make sure you choose people to work with carefully, making sure they'll be interested in promoting your website, products, and services.
Later on, you'll be able to use the mentions of your cooperation on your website to nudge visitors to become leads and leads to become customers. 49% of consumers depend on influencer recommendations. So, having a loyal influencer as a partner isn't a bad idea.
5. Work on the UX (user experience) of your website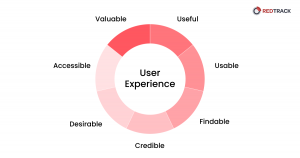 Understanding how people are using your website is crucial. What content they see first, how they navigate, how they like your site, everything is important. The content you share has to be:
Credible

Findable

Desirable

Accessible

Usable

Useful

Valuable
But the site itself has to offer a nice user experience. This includes:
Navigation.


Visitors should have access to a convenient navigation bar on the first viewing screen. It has to compile all the most important sections. Every page should be accessible within 3 to 4 clicks from the homepage.

Loading speed.


A 5-second loading results in a 90% bounce rate. Over 50% of mobile users will leave a site if it loads for more than 3 seconds, according to the same source. So, when people come for your content, don't make them wait.

Persuasive CTAs (calls to action).


This aspect is crucial for your conversion rate. Sometimes all a person needs to buy from you is a soft nudge. The case of Brafton shows that adding CTA buttons to article templates may increase revenue by 83% in one month!




Maybe not every result is that dramatic, but the tendency is clear.
6. Track the Performance of Your Content and Make the Right Adjustments
Last but not least, to be able to improve the conversion rate by optimizing content, you have to know the current state of affairs. Do research to know your:
Pages with the highest conversion rate 

Pages with the lowest conversion rate 

User path (what pages they visit before finding themselves on the conversion page).

Find out the performance of your CTAs within the content.
The right software will help you do all of that and control the performance of all marketing channels in one place. RedTrack is a universal marketing tool that helps issue tracking links, promo codes for influencers and track every channel you use for marketing or advertising.

Final words
High-conversion content is much more than writing shouting CTAs all over your content. It's a complex process that involves the talent of your writer, wise usage of keywords that match the search intent of your target audience, the user experience of your website, and much more.
For the best results, use a combination of the above-mentioned recommendations.