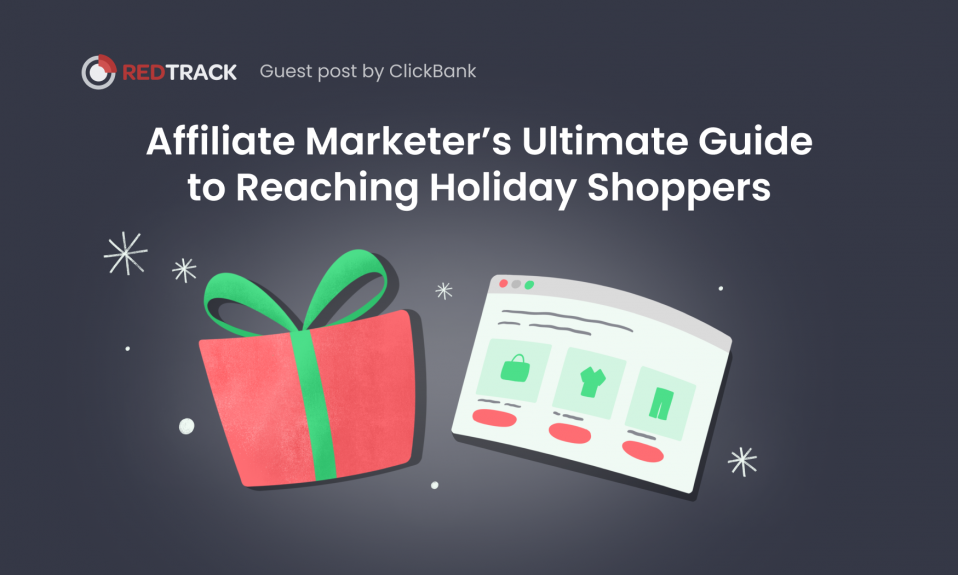 The leaves have all turned and fallen… Halloween has come and gone… somewhere, someone is playing Mariah Carey's "All I Want for Christmas Is You"… It's time to plan your holiday affiliate marketing strategy.
But where to begin? While 2021 may not have been as uniquely challenging as 2020, it has presented its own set of hurdles that have disrupted the marketing landscape. Supply chain woes, iOS14 updates, and shipping delays have shaken up marketing best practices and forced marketers everywhere to adapt. 
To help marketers ramp up for the holiday season and put to use everything they've learned this year, ClickBank has teamed up with RedTrack to create The Affiliate Marketer's Ultimate Guide to Reaching Holiday Shoppers.
What's in store for readers? In this guide we're going to cover: 
How to Create the Best Holiday Ad
Where Are Advertisers Headed This Holiday Season?
Comprehensive Tracking: The Best Gift You Can Give Yourself
So, without further ado, we are delighted to share this gift of a post with you in hopes that it will help you reach all the shoppers with affiliate marketing holiday ads!
How to Create the Best Holiday Ad
There are three things affiliate marketers need to consider when creating holidays ads: cheer, coupons, and competition. With a combination of these elements, you can win at the holiday ad game and up your commission payout. Let's unpack a little bit about each of these must-haves: 
Cheer 
What sets holiday ads apart from everyday ads? Even without in-depth inspection, the average internet shopper can identify a holiday ad right off the bat. It comes down to the cheer factor.
Holiday ads typically fall into a certain color scheme and have something that indicates agnostic festivities.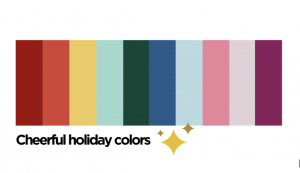 Since the internet marketing landscape is global, it's important not to assume any particular holiday color scheme or style. This can be done with images of twinkles, ribbon, string lights, presents, champagne glasses, and smiling faces. 
These ads will catch attention because people generally equate holiday ads with increased savings.
Pro-Tip: If you don't have the bandwidth to make good (like really good) holiday ads, don't wing it. The holiday season is busy for everyone, so if you want your ad to stand out, hire a graphic designer to help design and execute the perfect holiday ads. 
Coupons
The holiday season typically involves gift-giving, so what better time than to offer a present to your customers in the form of a coupon? Coupons are scientifically proven to increase conversions and are especially effective during the holiday season. 
The best rule of thumb to follow when creating a coupon offer for customers is the "Three-Second Rule". Customers should be able to fully grasp the bargain within three seconds of seeing it. The holiday season is complicated enough as it is–don't go making things harder with OECBOGOHOUM (Only-Exclusive-Buy-One-Get-One-Half-Off-Only-Until-Midnight) coupons.
Not only should you keep coupons simple, you need to make sure there aren't a million caveats about when and how the customer can use it. Does offering a coupon and guaranteeing free holiday shipping dig too far into your bottom line? The best practice here would suggest only offering one unless you can offer both. 
Competition
It's true — the holiday season is about cheer, goodwill, kindness, and compassion. But it's also fiercely competitive. While that may not make people feel merry and bright, it's the reality for many digital marketers who earn their living online.
With that in mind, make sure that your ads and campaigns are competitive. (Heck, check it twice!) We encourage split testing, tracking, editing, fine-tuning, peer review, tracking… and did we mention tracking? 
You need to know what ads are working and which ones aren't so you can optimize and scale with the best of the best. Analytics is a surefire way to keep your finger on the pulse of your campaign and stay competitive as you and every other digital marketer jockey for the attention of the holiday-shopping masses. 
Where are Advertisers Headed This Holiday Season?
While you design your holiday advertising campaign, be sure to keep in mind where you'll be marketing. With the new iOS14 updates, many affiliate marketers have branched out to new channels in order to survive (and, in some cases, thrive). Let's face it, Facebook was getting pretty crowded anyway. There's plenty of advertising blue ocean out there… but which ones are the best for holiday advertising? 
Email Marketing 
If you plan to run an email marketing campaign for the holidays, make sure your emails are on point and complete with a catchy subject line. You'll need to bring your email A-game. We encourage email marketers to create copy targeted to particular segments of their list.

The same advice for coupons applies to email marketing: keep it simple. The reader should be able to see the deal and understand it seconds after opening the email. Achieve this with visuals, compelling subject lines, and visible links that will help customers get where they need to go to make a purchase. 
Native 
While social ads tend to take center stage during the holiday season, we encourage digital marketers not to overlook the power of native advertising. Native advertising is oftentimes less expensive than social advertising, and with less competition, it can be highly lucrative if done right. 
What's the magic recipe for a native holiday ad that spreads cheer and creates conversions?
Two words: Target. Audience.
Identifying a target audience for each campaign will take some leg-work before you set off. It's important to get ahead of the curve on this step, so start now if you're going to. 
Good ol' Social 
The number one rule when it comes to digital marketing on social media during the holidays is… stay competitive. How do you do that? Test and track. Test and track. Test and track. 
The data will tell you what's working so make sure you are able to see what's happening with your campaigns clearly and concisely.
Comprehensive Tracking: The Best Gift You Can Give Yourself 
One of the most critical parts of succeeding at holiday advertising is being able to identify successes and failures quickly so you can act just as quickly to optimize and shift as needed. The tool to do just that is comprehensive tracking — arguably the best gift you can give yourself this season.
A tracking solution that consolidates your media and attribution activity can save you time, focus, and make sure you're spared from the pain of logging in to more platforms than you need.  
If you're an affiliate marketer looking for a Facebook tracking solution with integrations galore, RedTrack can check those boxes.
If you have "efficiency" and "revenue" on your holiday list this year, sign up for RedTrack and change your holiday marketing process for the better.
Only now you have an exclusive chance to save up to 30% OFF on RedTrack's subscription with the Black Friday deal. Start with a free demo and invest in conversion tracking & attribution during BF season 🔥