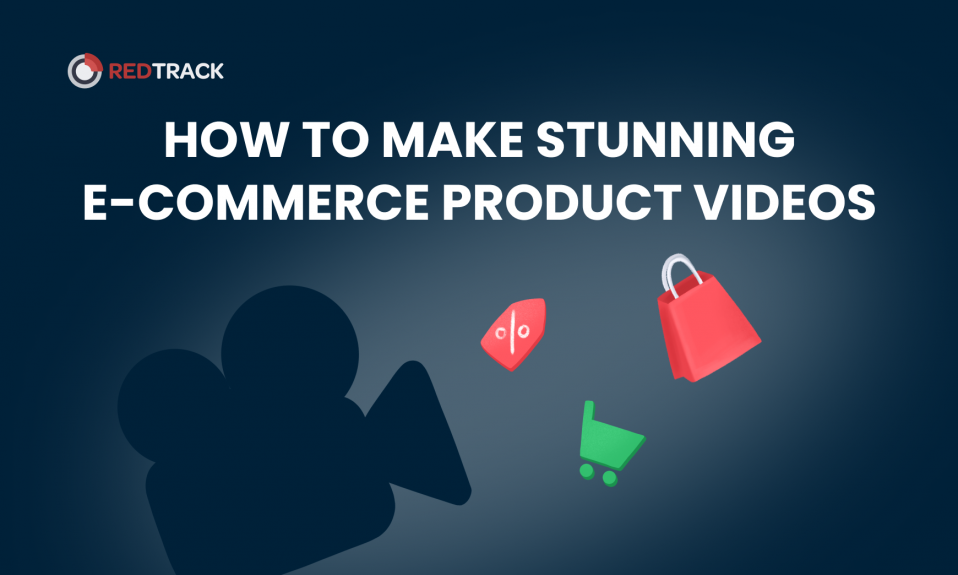 There is no lie in the saying: a picture says a lot. However, a video is like a novel that says the story from the beginning to the end! 
Research also says that customers are more inclined toward visual representation than textual and vocal descriptions of a product. Social media channels have introduced small video mediums such as Instagram has its reels, YouTube started short videos, and Facebook has its own video promoting source.
Videos may increase traffic to your blogs, websites, or e-commerce stores as well as your sales since they captivate viewers more quickly and convert three times in comparison to images.
Though there's no doubt in customers' huge interest in video content, you can not ignore the fact they get bored with usual content very quickly. To keep your customers intrigued and captivate them to visit your website to see more of your product content, you need to raise your bar. 
We are giving you properly examined and assessed techniques for producing e-commerce product videos that are both quick and effective.
What are e-commerce product videos?
A video that exhibits your product, demonstrates it in use, and emphasizes its salient features and advantages is known as an e-commerce product video.
When customers can't physically see your products in a store or showroom, this is the greatest approach for them to learn more about them and their advantages.
Why e-commerce product video is essential for your business
Videos are one of the least utilized e-commerce selling tactics. At the time when a consumer is considering making a deal, product videos give you the chance to demonstrate the advantages and applications of a product.
1.
Product video brings more consumer engagement
By encouraging more customers to purchase your good or service, video greatly raises brand engagement. From researched data, it is concluded that 77% of customers who watch product videos are more likely to buy the product. 
2.
Generate higher traffic to e-commerce website
If the videos are interesting, more prospects click the button to see the whole clip. It does not only make a strong engagement with your potential customers but also their visit to your website creates higher traffic and generates leads.
As a matter of fact, the GenZ generation prefers branded product videos that showcase all the benefits of the product. 
3.     Product videos force higher conversion rate & sale
An average of 9% of sales are converted by retailers who use videos on their product landing pages. 111% more money was spent by clients who watched ten or more movies than those who saw just one. A greater number of product page videos increases sales and revenue.
4.
Improves engagement & builds trust
Video content is one of the finest ways to develop brand trust since it is more personal than other types of material. At every point of the marketing funnel, video can foster meaningful connections with prospects. Not only new but old generations also trust more on the brands who pitch their product through video visualization. 
5.
Eliminate consumer doubt
Without ever knowing if they would receive the deal, people donate money to Kickstarter initiatives. Why? because they become supporters as a result of the intriguing videos. Since customers could see the product and company's history, their concerns were allayed.
How to make a stunning e-commerce product video: A step-by-step approach
Every e-commerce venture needs to promote its product visually. Since customers can not examine the product physically, the features of the product must be displayed in the video. Also, you need to make a product video that can bind the client's attention.
Here's is a step-by-step guide for you to help you make a stunning e-commerce product video:
Step 1: Make pre-recording video preparations
To make a stunning video, what you need the most is high-quality equipment and cutting-edge skills. The equipment you need is:
A high-quality camera (You can now include cutting-edge smartphones instead of cameras.)

A tripod

A microphone

Lights

Video editing software
Based on the kind of video you intend to make, you might also require extras to appear in it and a set to shoot on. However, excellent DIY tutorial videos can also be made without a set! They may have this equipment on hand if you're hiring a production team or even a freelancer. However, if you're working alone, you'll require all of the aforementioned.
Step 2: Decide the video content and create a scenario
The video would intrigue customers only when it is worth watching and relatable to your product. Talk with your creative team if you have one or else take ideas from the internet.
Before shooting anything, first, be clear about what will go in your content. Keep in mind that you have only 30 seconds to make your client engage with your product video.
Try making a product video so engaging and informative that when the customer ends up watching it, they are convinced that your product will help them if they buy it. 
Step 3: Choose an effective format
You may want to select one or more of the following formats to highlight your products, depending on how you want to use your videos.
Products close-up shots
These images showcase intricate, eye-catching products and are perfect for product sites. You should include a 360-degree close-up view if the product's aesthetic appeal is crucial to generating sales. Ask yourself, what would customers examine and evaluate about the product if they were shopping in-store?
Benefits of your product (why consumers have to choose you)
These e-commerce product films demonstrate how an item functions and are perfect for showcasing complicated and useful things. Utilize them to showcase your USPs and why your product has a cornerstone over others. 
These are excellent for product sites, but they can also serve as helpful blogs and social media material.
Product Catalog
Product Catalogs aim to illustrate how your product is utilized, much like a how-to.
But unlike "why your product", they demonstrate your items in use, frequently in real-world situations. This makes it easier for customers to imagine holding the goods. For anything from clothing to home goods, it's a helpful structure.
Installation guidelines
Conversion might be severely hindered by uncertainty about product installation. Customers can be reassured that they can easily install your products with the help of a clear and short video.
This type of video is perfect for any product that needs to be assembled or set up and is useful both before and after the purchase.
Product unboxing
Unboxing products is something that people love watching on the internet. It might be shocking for you that the highest paid YouTuber in 2019 was an 8-year-old kid who makes product unboxing videos. This is how popular unboxing is amongst customers.
So, if your products come in attractive packaging, show it off and let potential customers know exactly what they'll get when they buy from you. For tech-related products, this one's especially helpful!
Storytelling videos
What makes your product special—a distinctive design, high-quality parts, or the manufacturer's expertise? If so, inform viewers with a storytelling video that details the process used to create your goods. Stories are something that is engaging folks for a very long time. Tell your clients your product story. What inspired you to make such a product, how will it bring ease to customer's life, etc.  
Step 4: Gathering brand materials for product video
Make a list of all the resources you already have available before you begin recording. These might consist of:
Branding (your logo)

Granting organizations' logos, product certifications, etc.

Earlier images or videos

Customer feedback

User-generated content
It's usually a good idea to be aware of your resources before shooting. For instance, you might wish to modify the frame if you choose to include your logo.
Step 5: Shoot your product video
Products are easier to work with than a cast, but it can be challenging to make them seem fantastic.
The main challenges when filming an e-commerce product video are always lighting and angles.
Two off-camera lights are required, one behind the product at a 45-degree angle and the other in front of the product on the opposite side. Increase the brightness of the backlight to make your goods stand out.
Plain black or white backgrounds are ideal for displaying products. Viewers will have greater faith in you as a merchant the more professional your product videos appear to be.
Step 6: Make relevant edits to the video for various platforms before posting
During editing, keep your target viewers in mind. Videos made for broad ad campaigns should be very different from those made for retargeting advertisements.
Be deliberate; choosing outstanding images and transitions is more important than just removing the bad parts.
Now that everything is done, click on the post button.
Tips for a great product video
Videos are the best method for showcasing your goods to the public. In actuality, you ought to always have a video for every item you sell. In addition, you may use them as an internet marketing tool to promote your website, particularly if you submit them to video-sharing services like YouTube.
As a result, in order to build trust with your audience, you must provide informative videos that also demonstrate how to utilize the product.
Here are the following tips to make a stunning product video for you:
Cater to the target audience
Serve what the customer needs to be served.
Show how your product fits into the broader context of your client's life rather than solely showcasing how elegant it is. With your product video, try to respond to the following queries:
   

What problems does your product address?

   

How does it improve the lives of your clients?

   

Does it motivate the customer to take on more?

   

Will using this product make them happier overall?
Keep the video short & concise
Though we already mentioned the power of storytelling, do not elongate it. Make it short and to the point. Cut the five to six-minute video script you created in half, first to three minutes, then to two. They'll be grateful that you left out the fat and only provided the meat (their actual demand) for your audience or superiors.
Customize your video for different platforms
Because your product video acts as an advertisement and the first impression for your goods or service, appearances matter. This means that blurry photographs or shaky video can (and will) result in a fall in product sales.
Since the finished product might be included on your e-commerce website or utilized as a Facebook advertisement, you want to be happy with it. You can completely modify your product video using Video Create to meet your preferences, whether that means adding your company's logo and fonts or enlivening your product presentation with footage from our sizable collection of trendy stock videos.
Remember to show not just tell
Keep in your mind that it is a product video for a reason. Rather than explaining what your product can do or how can it help your client in making their life smooth, show it to them through a live example. Customers or viewers can even reject a video with a robust concept and aesthetics if they don't understand what you're selling by the end of it. 
As if you were still in first grade, display your product and inform your audience about it. As simple as that.
Here are some examples of the product video that both small and large e-commerce companies use:
– Demo. A demo simply displays the product in use while being demonstrated
– Explainer. The simple explainer video uses a combination of audio and text to explain a product's operation and to describe the origin story of your company. Explainer films frequently persuade people to make purchases
– Instructions. These are instructional since they offer a set of detailed instructions. Instead of being solely a marketing strategy, tutorials may be designed for people who have already paid and need assistance using a complex product.
Never be reluctant to use a product video to highlight your brand's personality. To set your product apart from the countless other things that are comparable to it, show off your personality.
Add captions to your product video
India is a country of diversity. At every 10 miles, you can witness a language change. Keep that on the top of your mind. Add captions to your product video so that people from all regions, even customers from across borders, can understand your product
This has to be added to your product video post. Many times it happens that the client likes the product from the video and explanation of it, but the way to buy the product is too complicated that they leave it there. Always add a direct link to your website from where they can buy the product effortlessly
Don't miss on adding the tracking links in the description
Accurate conversion tracking is essential to determine the effectiveness of your product videos. Each video you make and each marketing channel you use for promotion can have different results. But how do you know which video or channel performs better?
You can do it with help of ad tracking tools that will be monitoring the clicks and conversions with help of tracking links. When you add tracking links under each video, you will be able to control the performance that your product videos bring.
One of the leaders of ad tracking & attribution market is RedTrack — a marketing analytics solution that helps increase ROAS at every step of the funnel. If you wanna learn more about marketing analytics and make more profitable marketing decisions, consider booking a demo. 
Few examples of successful e-commerce videos
Making a product video cannot be done in just one method. Customers have different expectations for what they want to see depending on your industry. Additionally, depending on how individuals decide what to buy, they have different needs. Still, you can take inspiration from the e-commerce videos that are doing great in this field if you also want to step in and pave your way through it.
A multifunctional, pixel-accurate digital pencil for all iPads (2018 and later), the Logitech Crayon increases productivity while fostering creativity. In their product review video, they keep things very simple. All they do is explain to their customer how and why their product is a necessity in customer's life and that's all the game is about.
Exxel Outdoors, LLC owns Kelty, a maker of upscale backpacks, tents, and sleeping bags. In Boulder, Colorado, the company is headquartered. Through a video where they explain how to install their product, they say it all. Why, how, and where will you need their product is all they say in their video but in such an impactful way that the customer will be agreed that they actually have to have this product in their life.
Born out of a shared appreciation for high-quality products and beautiful design, Native Union develops thoughtful solutions appropriate for contemporary living. They want to inspire others to live similarly while being passionate about what they do. One of the best places to rake inspiration for your product video. In their videos, they show you how to deal with your tragedy of using multiple wires and then show how they can fix your issue. That is it.
Product videos are changing the game of marketing!
Product e-commerce videos can produce excellent results. Although I'm sure you already know this by now, it bears repeating. Carefully craft an effective video marketing strategy. The moment you begin producing these videos on your own, your marketing strategy will undergo a significant change. We recommend you use data-driven, well-researched, and well-molded content that is relevant to your audience, can engage people, and compel them to take actions such as sharing your content or making a purchase.