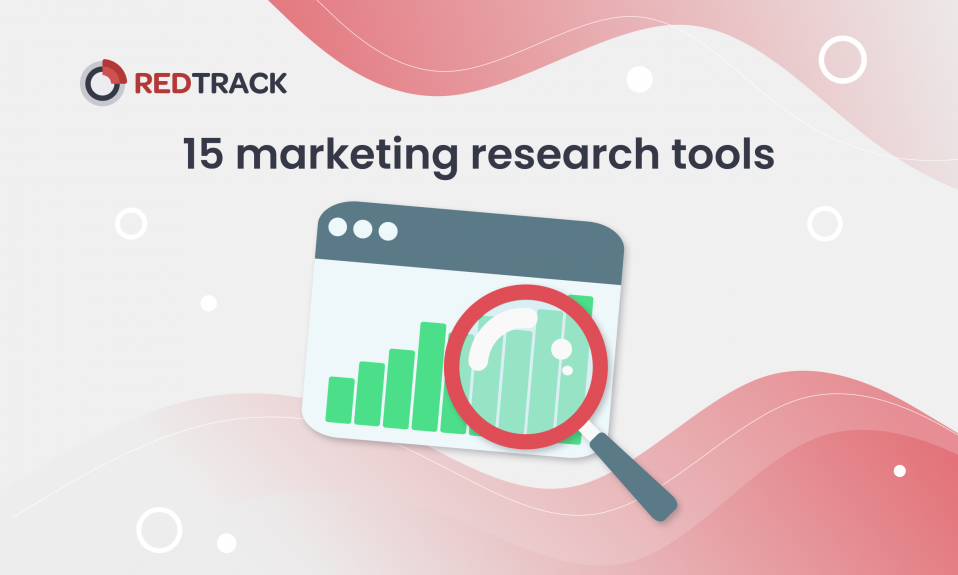 Online jobs like affiliate marketing exploded ever since 2020 changed the game for many professions and industries. The increase of the players in the market not only drives the competition but forces many marketers to find new creative ways to advertise services or products. It starts an ever-increasing need for insights to gain some sort of advantage compared to your competition. And market research tools play an important role in improving everything you do!
Today, we are going to present you with some of the best market research tools that you can find! The right tool not only provides you with insights but gives you additional ideas to pursue an increase in revenues, so let's explore top solutions for your marketing!
What Are Market Research Tools?
Market research is an important part of every business. It is a process of improving, evolving, and crafting products and services that people require and want. 
Market research helps identify the needs of customer clients, analyze what your competitors are doing and find the right niche for yourself to create the best product/service possible, as well as craft advertising strategy to attract attention to your solution.
Today, there are more free and paid solutions than ever before to help you research the market. Many of them promise to streamline market research and provide important consumer input. But most of them fall short of this promise. There will always be the good, the bad, and the completely useless among them. But knowing the difference and getting familiar with effective and well-working tools like those found within this article can truly make an impact on your business. 
Top 15 Best Market Research Tools
1) Google Analytics
Google is a huge company that focuses a lot on its online advertising business. With the number of ads they provide to the web, it is no wonder that they have robust analytics and research tools that can help their customers find out more about the market they want to advertise on. 
Google Analytics is at the forefront of this. It helps gain insight into audiences, your campaign performance, and what you can do to improve them. It is simple to use, and completely free!
2) Google Trends
Google doesn't only offer analytic tools that cover your campaigns but also have great tools that can tell you more about trends. Google Trends platform is the perfect place for you to learn about trends and points that you can utilize to make some extra profit. The platform can give you a picture of what people are looking at on the web and what products and services they are currently interested in. You can also find out popular queries, topics, and identify patterns that you can utilize in your campaigns. Since it's Google's platform, access to it is completely free!
3) Google Keywords Planner
Continuing with Google's services, we come to the smallest one of the bunch. Google Keywords Planner is a part of the Google Ads package, but it is still a valuable tool on its own. It is a simple tool that can help you track popular keywords on the web and see how their popularity grows or declines. 
You can research specific keywords and see how many searches they get, how popular they are, and how it changes throughout the years. You can also get insight into similar or related keywords that you might rank better with. 
4) Statista
Data visualization can be incredibly valuable to better understand the data you are looking at. One of the best tools for this visualization is Statista. Its unique approach to presenting your data makes researching and understanding trends much simpler. 
On Statista you can find a bunch of already premade charts that digest a lot of aspects of various industries. As time passes, those statistics become less relevant, so the platform updates all of its data now and then to stay up to date and relevant. The only thing that Statista can't guarantee is its original research as they use already recorded data as its base. 
5) GrowthBar
If you want instant access to incredible data points about your competition, their strategies, and keywords, look no further than GrowthBar. This market research tool can help you with SEO, SEM, and Facebook advertising, and increase your chances of gaining new customers. 
The bulk of its functions are tied to researching marketing channels and strategies that your competition might be utilizing for its advantages.
You can gain insight into your competitors:
backlinks;

social signals;

keywords;

ads;

& other valuable information.
6) Userlytics
Knowing how usable your website, app, or prototype is can be a difficult task at times. This is what Userlytics is great for. You can find people that can test out your stuff and give you valuable feedback on how it performs. There is also a handy questionnaire you can use to filter out potential testers or get feedback on what they like or dislike about the things they tested. 
7) Survey Monkey
Sometimes doing your research can lead to much better and more accurate results than using already premade data. For this reason, Survey Monkey can be the right tool for creating detailed market research surveys that can help you understand the market and audience within it. 
Survey Monkey allows for the creation of incredible surveys that can help you answer some incredibly specific questions. You can get granulated data that is perfectly applicable to your use cases. The service itself offers dedicated market research services and solutions that can help you gain data from an international audience!
8) Typeform
If for some reason you don't like Survey Monkey, or you are searching for an alternative solution, you should check out Typeform as a worthy contestant. Similar to the previously mentioned service, Typeform offers an easy and optimized way to collect data from your audience without the hassle that usually comes from doing it. 
The service is very mobile-friendly and well designed so you will have no issues designing your perfect survey on your phone or desktop. It also has a lot of pre-made templates that can cut down the design and optimization time by a lot. There are multiple styles of questionnaires, including multiple-choice, short-form, and rating scale questions. 
The platform can also collect detailed demographic and other information that you can use to better target your audience in the future. All in all, you can research your audience and the market in great detail through Typeform!
9) Social Mention

Getting real-time data for your market research needs can be a big advantage in the marketing industry, and Social Mention makes it easier than ever. The tool is incredibly easy to use. You enter the website you want to research and analyze and that's it! You will get a detailed report on social media mentions for that page from all over the web. You can use this to gain insight into your performance or use it to spy on your competition. The reports are well laid out and easy to understand, so you shouldn't have any issues learning a whole lot from this tool. 
Use Social Mentions to find out where you and your competition have been mentioned and adjust your campaigns to best utilize those mentions.
Even though Social Mention doesn't offer the most detailed reports, it's completely free so it's more than worth at least checking out!
10) SEMrush
If you want a quick and simple way to see what your competition is doing and what they are running, SEMrush might be the best solution for your needs. The platform can help you identify marketing trends based on keyword analysis and competition tracking. SEMrush allows for quick and efficient identification of trends on the market. 
It is a professional tool that most marketers should at least take a look at and find out what it can offer. With proper usage, it can make all the difference in your marketing campaigns!
11) SimilarWeb
SimilarWeb is an incredible market research tool that can help you gain insight into what your competitors do, like: 
traffic

referral sources

audiences

demographics

and much more.
It includes detailed data on targeting, GEO's devices, and other metrics that can help you optimize your campaigns through the knowledge you gain from competitors' campaigns. 
12) Brand Mentions

Understanding what your customers are interested in can be an incredibly valuable thing. You can use that information to optimize your existing campaigns or create new ones that better cater to the needs of your audience. Brand Mentions can help you gain insight into what your audiences are interested in and talking about online. 
With a few keywords in mind, Brand Mentions will scan social media posts and comments on websites to find out what people are talking about the most. You will get a nice report of a bunch of metrics including reach, performance, weekly mentions, and much more. 
This tool is incredible for researching the market and finding what people are talking about on the web. Use this to learn what your audience is interested in and how you can make your offerings more attractive to them. With the data you can receive from this platform you can refine your campaigns and create incredible offers for your audience!
13) Ahrefs
Most affiliate marketers know a thing or two about Ahrefs. This incredible SEO tool can not only help you optimize your pages and campaigns, but it can also give you valuable insight into keywords, rankings, backlinks, and other valuable information that your competition might not want you to know. 
Ahrefs analyzes search engine data across the web and compiled detailed lists of rankings, difficulty in rankings, and trends that you can utilize for your gains. If you want to gain an advantage over your competition in anything SEO-related, Ahrefs should be amongst the first on the list you should check out!
14) Qualtrics
Qualtrics is a great tool for researching the market you are trying to enter or optimize for. This is another one of the survey-type programs that helps you gain valuable data from your and other online audiences. A thing that sets them apart from the competition is the incredible questionnaire design and detailed reporting features that can help you spot upcoming trends and developments. Their customer support is also quite well organized, and you can get help with even the most difficult tasks in no time!
15) BuzzSumo

Speaking of powerful tools, BuzzSumo is one of the best ones on this list. This tool can analyze given topics and find popular content types for those topics. It also enables you to explore those topics further and gain insight into what people are interested in and how to better rank for them. 
BuzzSumo offers:
social media and content insights;

social media analytics;

personalized reports;

robust backlink analytics tool.
Buzzsumo can help you optimize your campaigns to the fullest.
Final Words
One of the most important elements in creating a long-term, successful business is conducting market research. It's not something you do once and then forget about it. It should be something that you do regularly and use the information gained through it to improve your campaigns constantly. With the proper market research tools at your disposal, you can create incredible marketing campaigns that can influence your profits. 
When you find new ideas or strategies to follow in your marketing and advertising, don't forget to track the outcomes of your efforts. With tools like RedTrack, you can track your campaigns across all channels and get advanced reports on your performance. Once the research is done, analyze the data of your novice strategies and decide what actually works for an increase in revenues.
To test RedTrack, consider taking a 14-day free trial or simply book a demo for our specialist to show your around.