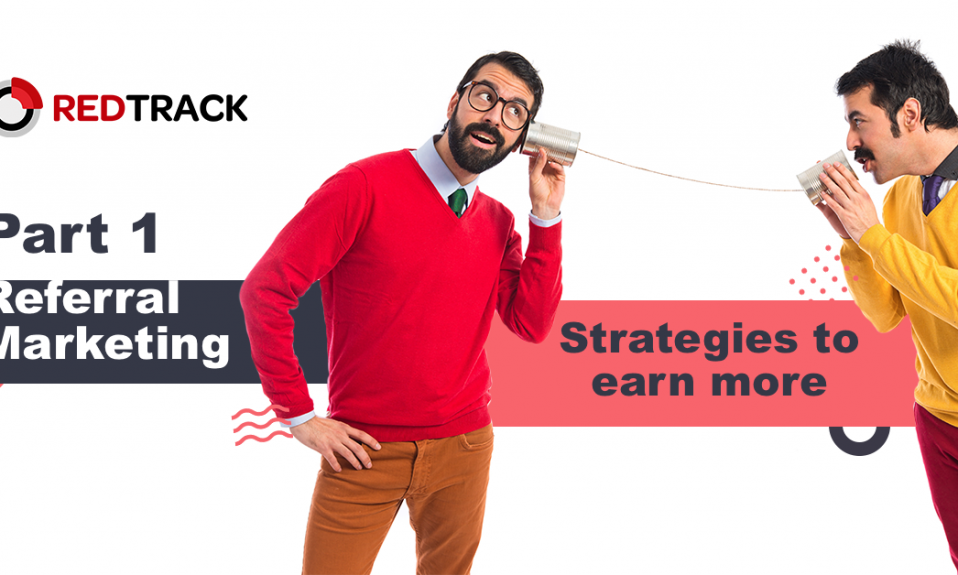 Referral marketing is a tactic to get customers to tell their friends about your product. The best thing about it is that it's an organic process and therefore has a high ROI with low risk. One person who likes the product recommends it to others, and then it all becomes viral. A brand gets an effective acquisition channel and referrals, in turn, win trust in their environment and improve their personal brands.

You can read all this in the books written by smiling optimistic authors, who had experience with several well-established brands and or had none at all. In today's world, having a good product to build a good word of mouth marketing strategy is not enough. If the referral process is not managed, it can quickly go into decline. To avoid it, companies encourage their customers to spread the word about their product with special rewards and additional privileges. This is how referral programs are typically created.
How brands use referral programs
Today you'll see Referral Program Tab on almost every reputable company's website. Large brands are also not averse to saving on user acquisition costs. Let's look at the classic examples of the most well-known referral programs.

For those who are not familiar with Google business services, this one is a suite of various cloud computing productivity and collaboration products. Its Referral Program includes the following awards:
$ 15 for each user that signs up for G Suite Basic plan;

$ 30 for a sign up into G Suite Business or G Suite Enterprise plan;

up to $ 3,000 per each domain.
Even if you've never booked a place at Airbnb, you definitely heard about this rental marketplace. To get more users, they came up with the idea which benefited three parties at once: the brand itself, a referrer, and a referral:
Members of the referral program can earn their Travel Credits – discounts – for future trips in two ways:
if he's referral clicks on the referral link and register to the website;

in case he completes a Reservation using the link. 

The referral link usually gives up to $30 credits to the referral.


A win-win-win case as it is.
Not only mass user products play in referral programs. Premium ones are also in the game. Tesla has already changed its referral program conditions several times. Right now they have two different referral programs for their two brands:

Cars
The referral link allows you and your referrals to earn 1,000 miles of free Supercharging with the purchase of a new Tesla. Each new referral increases your chances of winning a Model Y monthly or Roadster quarterly. 
Solar panels
A referer gets $ 400 for each solar referral and a Powerwall if brings 10+ customers. Referrals who use your referral link can earn a $100 after system activation or Solar Roof. 



Referral marketing vs Affiliate Marketing. What's the difference?
Even though both Affiliate and Referral marketing relies upon incentives to drive new customers' revenue, their underlying core mechanisms are different.
Affiliate marketing focuses on 3rd-party advocates to send new clients to their business for a fixed fee, while referral marketing is focused on rewarding their own customers to bring new ones. Want to try both of them? No problems. But make sure you're not working with two competing brands. 
Affiliate marketing compensation models have been known for a long time. The most popular ones include
PPS (Pay per Sale). Everything is pretty obvious here. If your activities lead to a sale, you receive the pre-agreed commission;
PPA (Pay per Action). In this case, a company pays you for each active user who completes the desired action on the website or in the app. It can be anything from creating a new account, signing up for a newsletter, downloading an e-book, etc.
PPC (Pay per Click).  Every time a user clicks on the desired link, the commission is issued by your merchant.
PPM (Pay per Mile). This concept works the same as the previous one only requires payment based on a thousand views.

etc.
But what about Referral Programs?
How can you earn with Referral Marketing?
In the case of referral programs you can earn awards for each new customer you bring to the company using your personal link. Unlike Affiliate Marketing, your award may not always be a material one. They can come in many forms:
Money as it is;

Special Discounts and bonuses;

Free Subscription Months;

Free products;

Early access;

Custom rewards.
In RedTrack, for example, we combine two types of awards: 15% lifetime commission for each deal and custom awards for a certain number of clients brought. 
We tried to make our custom rewards useful for media-buyers. They can
get additional bonuses from different services to save budget and create more effective offers;

receive access to the community to deepen their knowledge and meet  the right people;

get special conditions for RedTrack use for themselves and their referrals;
receive additional promo as RedTrack Partners and boost their brand awareness.
How to get more customers and earn more?
1. The most important thing is to choose the right product that you know well or use

If it's sophisticated software like RedTrack, it will be hard to promote it if you haven't tried it by yourself. For this purpose, we have a 14-days Free Trial with access to all our advanced ad tracking and optimization features.
2. Don't be afraid of SMBs
While some may think, small companies are harder to promote, in fact, it can be the other way around. SMBs have a narrower target audience with more or less homogeneous needs. Big companies, in their turn, may offer smaller payouts and less meaningful awards. Moreover, competition is often tougher in the second case.
Before signing up for the program, check it for the following things:
Detailed awards description;

Clear conditions for receiving awards;

Unambiguous Terms & Conditions;

The brand's reputation. At least check reviews on websites like Captera or

Trustpilot

;

Social media presense.
3. Try to avoid head-on sales. Tell stories
Any Reference is more advice than a sale. In real life, you can't just drop a product's website URL with a CTA to your friends and expect them to go and buy it. They will definitely want to know your experience with the product and why you think this product is for them. Pack the answers to the questions into a catchy story. Incorporate them into your blog post, share with the social media community, tell it on forums or try to put it in an ad creative.
4. Be honest
If you really refer the product to someone you know, don't hide the fact that you will also benefit from the deal. Sooner or later they will find out about it anyway and it can be pretty awkward. So, be honest from the very beginning. Tell them not only about the benefits but product shortcomings as well. You can learn about RedTrack advantages and bottlenecks in 30 minutes on a free demo with the product specialist.
5. Read customer stories
Reputable companies usually have some customer's stories on their website's blogs. Most often they describe what problems users had before using the product and how it later helped them solve them. In these case studies, you'll find a lot of clues about the target audience of the product and its needs. That's why don't be lazy to find this section on the website or ask the team. In RedTrack it looks like this.
Conclusion
Referral marketing isn't a risky tactic to earn money. As you see, there're no special secrets in promoting your referral links. To make a good start you just need to get to know the product well enough and know how it can solve people's problems.